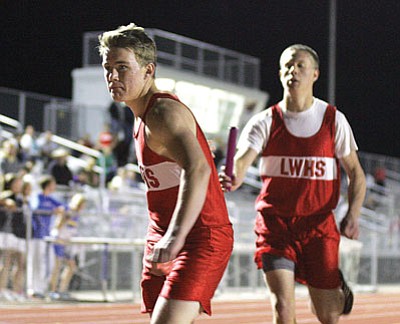 Originally Published: March 28, 2013 6 a.m.
KINGMAN - Lee Williams' Megan Barnes placed third in the 400 and 800 meter races Tuesday at the Kingman High multiple with six other teams to lead the up-and-coming Volunteers squad that continues to turn heads at every meet.
"We are all freshmen," LWHS coach Joan Abraham said. "These other teams have sophomores, juniors and seniors. We have nobody like that. Our kids are stepping up. They are doing an outstanding job. They are representing their school. It's just phenomenal."
While the Volunteers haven't won a track meet this year and have placed near the bottom at every meet they've gone to, they are scoring points and are continuing to get better with every meet.
"We had third- and fourth-place finishers against these other teams," Abraham said. "They've been stepping up. We've been videotaping them and trying to help them out with some of their kinks and help them try and figure out what they need to do. We are not the bottom team against teams that have seniors."
Tuesday night, the Lady Volunteers placed fifth with 36 points, ahead of sixth-place Bullhead City Mohave's nine points. The LWHS boys placed sixth with 15 points.
The continued success also means the list of varsity letter winners continues to grow with the additions of Alexis Hoffman, Brianna Colbaugh, Megan Barnes, Braxton Burgess, Landon Kramer and Giancarlo Narvarte.
Other top-five placers for LWHS included Brendon Allred's fourth-place finish in the 3200 with a time of 11:20.62; Burgess, fifth in 110 hurdles (19.36); and the 4x100, 4x400 and 4x800 boys relay teams.
Marli Lauck finished fourth in the 400 meters while the 4x100 girls placed fourth and the 4x400 girls relay team finished third. Colbaugh placed fourth in shot put and Mackinzie Smario finished fourth in high jump.
The Kingman High boys placed first with 186 points, while Anthem Betty Fairfax finished second with 125.5 points. The Lady Bulldogs finished second with 149 points behind first-place Lake Havasu's 158.
"All the kids ran well," said KHS coach Rob York. "We had some injuries on the girls side that hurt, but overall they ran very well. It was a fairly big meet, with a lot of competition. It was a good lead-up to the Peoria meet."
The Bulldogs had six first-place finishers, led by Cristian Gutierrez's top places in the shot put and discus. Patrick Webb finished first in the 3200 meters with a time of 10:46.66, Darian Kamin took the top spot in the 300 hurdles with a time of 40.38 and the boys' 4x400 and 4x800 relay teams finished first.
The Lady Bulldogs were led by Paulina Delgado's pair of first-place finishes in the 300 hurdles and long jump. Other first-place finishers included Amber Tackett in the discus and Heather Weninger in the 800 meters and the 4x800 relay team.
Lee Williams will be off for the next couple of weeks before returning to the track on April 11 when they host River Valley and Kingman High. The meet will be the first varsity level sport that Lee Williams High has ever hosted.
Kingman High will travel to the Peoria Invitational today.
Click for home delivery with comics, grocery deals, inserts, TV listings, coupons and more