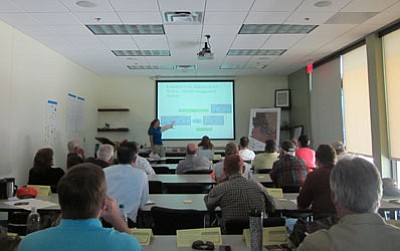 Originally Published: May 1, 2013 6 a.m.
A few weeks ago, local hunter education instructor Jay Chan and I attended the annual Arizona Game and Fish Department's Hunter Education Summit, and while it made for a long day, it was very worthwhile.
This summit is an annual event at which the staff of the hunter education division from the department's headquarters in Phoenix report on what happened in the past year and what instructors can look for in the coming year.
There were instructors from all over the state in attendance, and for me, it was a chance to renew old friendships with others who are as passionate about hunter education as I am.
Here are some statistics/information you may find interesting:
- In 2012, there were 159 classes conducted by more than 300 instructors in Arizona.
- There were 1,539 students, both young and old, who took the department's regular hunter education class, while an additional 1,271 went through the online class.
- Seventy-four new instructors graduated from the department's eight new instructor training programs in 2012, which is way above the average of about 20-30 new instructors per year.
Many other changes happened in 2012 that affected volunteer instructors across the state.
The workbook given to the students was redone in a move designed to standardize the material and make it more germane to Arizona residents.
There were eight hunter education courses offered in Arizona, including bowhunter education. Bowhunting is becoming one of the fastest growing sports in America. The department has a number of Archery in the Schools programs that are embraced by students and school administrators alike.
Probably one of the more controversial changes in 2012 was the revision and implementation of new policy and procedures.
This resulted in a reduction of hunter ed instructors in the Kingman area, where many longtime instructors retired, and all over the state.
Program managers explained that the changes were made in order to comply with Arizona Department of Administration and federal aid requirements.
In an effort to keep the hunter education instructors more informed about changes within the program, hunter education staff from Phoenix held 13 regional meetings, put out 17 newsletters and conducted 23 range officer safety training classes across the state.
Other classes that instructors were given at this year's summit included the results of a survey that was taken by current hunter education instructors, a communication/leadership exercise, and an explanation of the resources that are available to hunter education instructors.
In the afternoon, there were two one-hour breakout sessions. I chose one entitled "Chief Hunter Education Instructor Role," while Chan attended "Student Examination Revision."
During the second hour, both Chan and I attended a session given by veteran Wildlife Manager Dana McGehee, who addressed current and new law changes.
McGehee's presentation was well done and full of new information.
I asked what was considered proof of legality of an antlerless elk where the carcass had been boned out.
I had always assumed that if a hunter brought out the genitalia of the elk, that was good enough. McGehee said that because the tag says "antlerless" and not "cow only," hunters should bring out the head, or at the least the skull cap, to prove that the elk taken was indeed antlerless.
Taking a photo of the elk with the hunter was a good idea too, he added.
On June 6-7, the department will conduct a new instructor class for volunteers who have signed up to become part of the team of instructors in the Kingman area.
More instructors are needed. If you would like to join our team, give chief instructor Jim Rich a call at (928) 444-3397.
Click for home delivery with comics, grocery deals, inserts, TV listings, coupons and more