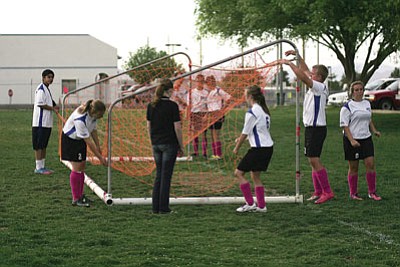 Originally Published: May 2, 2013 6 a.m.
KINGMAN - Following their 2-1 loss to South Ridge Tuesday, members of the Kingman Academy soccer team walked over to the goals, as they always do, and proceeded to take down the nets.
This time, however, the Tigers weren't sure if the nets will go back up for KAHS soccer.
With the school's decision to move from the Charter Athletic Association to the Arizona Interscholastic Association beginning in the fall, one casualty that resulted was the suspension of the soccer program.
"You think of it like a pie," said KAHS athletic director Shawn Byrne. "For the whole pie it's a good deal, but one of the slices tastes really bad but the rest of the pie tastes delicious. It's a bad taste. Nobody likes it. It's not like there was a celebration after. It's just a downer."
Byrne said the school would like to bring back the program, but the soonest it could happen would be the 2015-16 school year when the AIA begins a new two-year scheduling block.
If KAHS does bring soccer back, it would likely be played in the fall so the Tigers could compete against schools their own size.
"We want a girls team. I don't want a combination of a boys and girls team playing boys," Byrne said. "If we play soccer again, it has to be the fall. I want to compete against schools our size."
Byrne's main concern is Title IX, the federal law that requires schools to have equal opportunity for both boys and girls.
Having just a boys soccer program would put the school in non-compliance. However, KAHS soccer coach Ronnie White raised the question about Lee Williams High school, which decided to go coed for their junior varsity soccer team this winter after not having enough girls to field a separate team.
"My question is, Lee Williams didn't put a girls soccer team out this year. What's the difference there?" White said. "You can offer it and if you don't get enough kids to try out you are going to punish 20 to 42 kids because you don't have girls who want to play soccer. I understand the Title IX and I don't agree with it on that aspect. You are punishing both kids because one doesn't want to play the sport. I know where Title IX comes from but I don't agree with it in that aspect."
However, with KAHS having 13 boys and five girls on the roster this year, Byrne wasn't comfortable going the route that Lee Williams did.
"I don't feel good about doing it," Byrne said. "It would be in the boys league. We would have girls out there competing against boys only."
The other challenge that could face KAHS' attempt to have boys and girls soccer teams is the school's enrollment.
KAHS's student enrollment is 465, with a majority of athletes being three-sport athletes. Finding enough students to play soccer could be a challenge when athletes are already committed to other sports.
Byrne said KAHS will offer junior varsity volleyball beginning in the fall. Combined with varsity volleyball, cross country and spirit line teams, that's 46 female athletes already committed to participate in other sports.
"That's a lot for our size," Byrne said. "That's 20 percent of the pool that is already spoken for. Do we have another 10 percent? I don't know."
During his presentation to the KAOL Governing Board meeting in March in which the board approved the move from the CAA to the AIA, Byrne said that a potential advantage of moving to the AIA could mean a larger student enrollment.
"The pool could get larger. We would like to think that, but we don't know," Byrne said.
White agreed that low enrollment numbers could pose a challenge for the school to bring the program back, but also admitted that maybe his coaching style might have caused some players to shy away.
"That's not a lot of kids to pull from to play sports," White said. "I did have a reputation of being not necessarily hard on the kids, but it is soccer and you are expected to run. My kids would run all the time. I'm sure there are horror stories out there, but that's what soccer is. You have to run."
White, who does not plan on coaching the Tigers if the program returns, said he thinks KAHS' moves to the AIA will result in not as many three-sport athletes.
"I think that will be a change for the Academy in the next few years," said White, whose cousin, Natalie Casson, is just one of a few three-sport athletes at Kingman High. "With them going to AIA you won't see the three-sport athletes."
White also thinks the Northern Arizona Youth Soccer League (NAYSL) could do more to help high school soccer.
"NAYSL needs to treat these older kids like they do in high school sports," White said. "Let them play, let them be physical. You can never prepare for it until you start playing that type of soccer and unfortunately, NAYSL doesn't deal with it and they are very strict with the physical play."
It is something that White had first-hand experience with last year as his younger players, who grew up playing in the league, were a little shell-shocked at the physicality of the play in high school soccer.
If KAHS soccer does comeback, they need to start planning now, according to White.
"Two years is a long time, but when you start thinking of all the stuff you need to do, you need to do it now," he said. "AIA is different than Charter. You are going to play those games at those times. If it's going to be a money issue, they need to get stuff going now as far as raising money."
For Byrne's part, he is going to look into surveying girls at Kingman Academy Middle School to gauge the interest level for a girls soccer program.
"They are the ones that we are looking at," Byrne said. "It doesn't do me any good to survey the seniors and juniors at the high school. But just because somebody checks a box on a survey doesn't mean they are going to come out."
But as the players packed up the nets Tuesday and White gave his last postgame speech with the sun setting on him and the program, he had nothing but high praise for all those who have been a part of his three-year coaching stint.
"The kids were great. I had good kids, good parents. The parents made it enjoyable. I never had to deal with drama with parents and kids," White said. "I'm going to miss the bus rides and the kids keeping me up to date on what's trending. I guess I'm behind the times on a lot of stuff. The comradely stuff. You never get that until you're in those situations.
"I'll never forget the kids."
Click for home delivery with comics, grocery deals, inserts, TV listings, coupons and more