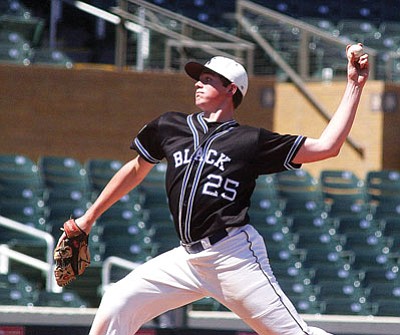 Originally Published: May 7, 2013 6 a.m.
KINGMAN - The Kingman Academy Black baseball team is looking for a triple crown in boys sports.
After winning state titles this school year in football and boys basketball, the baseball team will look to complete the trifecta beginning today when they face West Phoenix at 4:30 p.m. at Phoenix College.
"West Phoenix has one good pitcher and our guys like that pitcher. They've have always hit well against him. They are not too worried," said KAHS coach Bill McCord. "As long as they come out hitting, they are going to do well in that tournament."
Hitting well is something the Tigers (16-0) have done well all season, posting a team average of .428. Scoring runs is the other thing KAHS has done well - the Tigers are averaging 15 runs a game.
"They are in the drivers seat," McCord said of being the No. 1 seed.
Pitching is the other thing the Tigers have been pretty good at, boasting a team ERA of 0.62.
Left-hander Tarik Skubal leads the staff. Skubal has a 0.31 ERA in 22.1 innings while recording 41 strikeouts on a team that has fanned 146 hitters.
Others who have carried the pitching load include Jake Miner, 1.24 ERA with 29 strikeouts; Ty Sherwood, 1.40 ERA with 17 strikeouts; and Westin McCord, with 21 strikeouts and an earned run average of nothing but zeros.
"I have a whole arsenal of pitching that can shut down any team," McCord said. "We need to come out hitting. If we can continue hitting then I think nobody is going to touch us."
The one team that McCord sees as a potential challenge to the Tigers is third-seeded EVAC (11-3). The Tigers swept a doubleheader with them on April 26 by scores of 6-0 and 7-3.
"But EVAC played us pretty good the other day," McCord said. "They have improved a lot on us over the season. They hit, they had one good inning on us where they scored a few runs, and they were able to shut down our bats, which is something nobody has been able to do."
EVAC will face the No. 2 seed South Pointe (12-4) following the Tigers' game today.
The winners will play in the championship game at 8 p.m. Friday at Maryvale Stadium, the spring training home of the Milwaukee Brewers.
"They are looking forward to it," McCord said. "It's on the main field. They will be used to the field because they've played on Salt River (Fields) a couple of times."
The Tigers beat West Phoenix at home on March 29 by the scores of 20-0 and 9-4 and defeated South Pointe 15-0 and 13-2 on April 15 in Phoenix.
KAHS has another triple in mind - a third straight baseball title since the school split into Blue and Black teams. That experience will be helpful, McCord said.
"They know what needs to be done," he said. "I think they will have a couple of challenges but if they come out hitting, they should be fine."
Click for home delivery with comics, grocery deals, inserts, TV listings, coupons and more