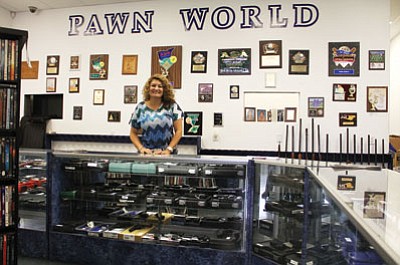 Originally Published: May 8, 2013 6 a.m.
KINGMAN - After hearing from several angry pawnshop owners, the Mohave County Board of Supervisors postponed a decision on adding a dollar per transaction fee to pay for a new pawn ticket tracking system for the Sheriff's Office.
"This would be detrimental to our business. We're a small family-owned business," said Amber Smith, a Lake Havasu City pawnshop owner.
The fee would be passed on to her customers, which wouldn't make them happy, she said.
"You're taxing the poor," she said.
Smith also pointed out that the new system might be a violation of privacy laws, a concern echoed by at least one supervisor. The Board decided to move the item to its May 20 meeting.
Pawnshops are not allowed to release personal information to third party vendors, Smith said. They are required by state law to provide information to law enforcement agencies, but the Mohave County Sheriff's Office is asking pawnshops to provide a customer's name and address, along with a photo of the customer, a photo of the item being pawned and the customer's thumbprint to the new system, called LeadsOnLine.
"You're treating them like criminals. They're not criminals," Smith said.
District 5 Supervisor Steven Moss agreed.
"Pawnshops are banks for poor people. They don't have credit. They can't get a loan," he said. "Just because they're poor doesn't mean they're criminals.
"It seems like part of what we're seeing in the packet was mug shot, fingerprint and now you're permitted to borrow money to feed your family this week, and I thought that was somewhat dehumanizing."
The supervisors also questioned Chief Deputy Jim McCabe at length about securing the privacy of customers.
"Can we maybe bring this all back?" asked District 2 Supervisor Hildy Angius. "I just want to know about the issue about LeadsOnLine if by law they have to keep that information private, because that's a big issue for me."
McCabe explained that the new tracking system, LeadsOnLine, was considered an arm of law enforcement by the state. The contract the county would sign with the company would prohibit the use of the information for anything other than law enforcement investigations, he added.
Other pawnshop owners questioned how MCSO calculated the fee.
Jerry Homer, the owner of the two Pawn Worlds in Kingman, said he was told a subscription to the new system would cost the county around $6,000. His two shops handle approximately 12,000 new pawns a year.
Smith said her shop handled around 1,000 pawns and Steven Busch, the owner of the two Easy Pawns in Bullhead City and Fort Mohave, said his shops handled around 46,000 pawns in a year.
"How much do you need?" Homer asked. "I'm not opposed to the system, but a dollar a ticket is a lot. Kingman already charges us three dollars a pawn ticket.
"Fifty cents a ticket is more than reasonable. I would eat 50 cents a ticket."
"I'm not certain (the Office of Management and Budget's) numbers are accurate," Moss said.
McCabe said MCSO sent out surveys to the 11 pawnshops in the county, but only received four surveys back.
"We have no problem reducing the fee to 50 cents," he said.
A subscription to the system was originally going to cost the county approximately $6,000, McCabe said. However, the police departments from the three major cities in Mohave County have expressed an interest in the system and LeadsOnLine has offered the county and the cities a package deal of $17,000. It would have cost each department $6,000 if they had signed up for individual subscriptions.
"There are other costs associated with this," he said.
MCSO and each of the police departments have their own pawn details that investigate cases.
"We're looking at this as a tool that can help us and the pawnshops," McCabe said.
District 1 Supervisor Gary Watson suggested MCSO and the pawnshops work together to simplify the process.
Click for home delivery with comics, grocery deals, inserts, TV listings, coupons and more