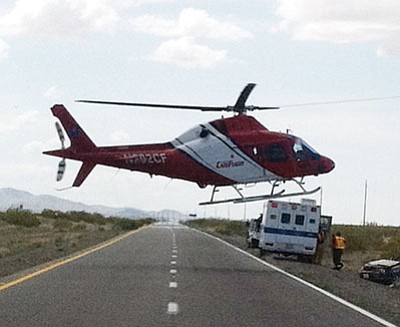 Originally Published: May 9, 2013 6 a.m.
KINGMAN - Emergency crews responded to a fatal accident Wednesday morning on U.S. 93 north of Kingman.
Crews from Northern Arizona Consolidated and Lake Mohave Ranchos fire districts were called to a single vehicle rollover accident at 9:31 a.m. on U.S. 93 North.
Firefighters were able to remove the female driver from the car, but she was already deceased. The only passenger in the vehicle was a small dog, which was also killed in the accident.
The Arizona Department of Public Safety is withholding the woman's identity until it can notify her family.
According to NACFD, it appears that the female driver of the white sedan left the highway, overcorrected and rolled the vehicle. The vehicle came to a rest upright on the shoulder of the southbound lanes.
The Mohave County Medical Examiner and DPS are investigating the accident.