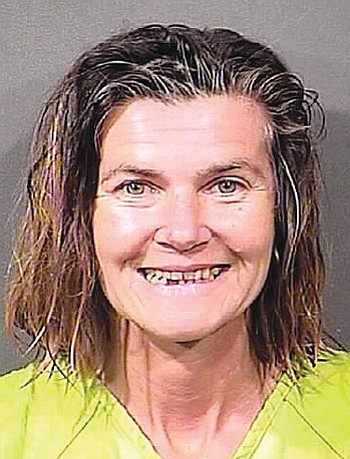 Originally Published: May 13, 2013 6 a.m.
KINGMAN - A woman was arrested Thursday after she allegedly killed a cat and threw the carcass at her 74-year-old mother and then beat her.
Lana Renee Meadville, 47, of Kingman was charged with cruelty to animals and domestic violence, both felonies.
According to Mohave County Sheriff's Office spokeswoman Trish Carter, deputies who responded to a domestic violence report in the 4200 block of North Skylark Road discovered Meadville sitting in a chair. A large knife was next to her and the dead cat was nearby.
The alleged victim told deputies her daughter threw the animal at her when she woke up and then threw her to the ground and struck her in the face several times.
The victim was able to leave the home and call for help. Deputies said both of her eyes were severely swollen and bruised.
Meadville was taken into custody without incident.
In 2011, Meadville was arrested after she confessed to setting her RV on fire as it was parked at the Coyote Canyon RV Park in the 100 block of Route 66.
Neighbors told authorities who responded to the fire that they watched as Meadville set her RV on fire and then sat next to it as it burned. She reportedly had to be pulled away from the flames by the neighbors.
Meadville left before deputies with the Mohave County Sheriff's Office arrived. She was arrested later after deputies returned to the RV park and found her sleeping in her vehicle.