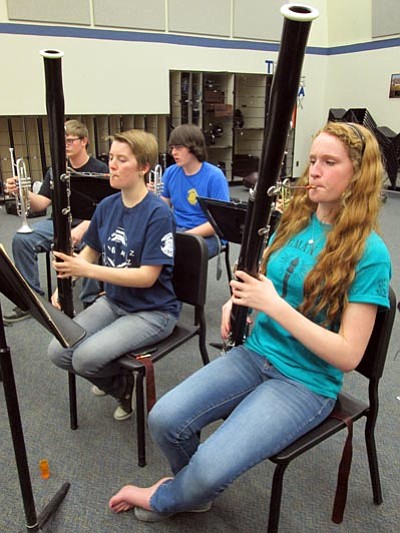 Originally Published: May 15, 2013 6 a.m.
KINGMAN - After years of ranking below Kingman High School's marching and jazz bands, the school's concert band program is finally beginning to make a name for itself.
The KHS wind ensemble, which is part of the concert band program, competed in the Music in the Parks Festival recently in Valencia, Calif., and earned a superior rating.
It also won first place in the Class AA Concert Band division and took top prize as Best Overall Concert Band spanning all divisions.
The ensemble consists of 40 students in all four high school grades.
"The marching and jazz bands here have a history of being great," said Michael Schreiber, now in his third year as band director. "But the concert band program traditionally has been so-so. We have put more focus on it and now are making a name for ourselves and being competitive.
"We just blew everyone out of the water in California, and it's nice to have the people take notice of us."
Several ensemble members credit Schreiber with the change.
Damian Garcia, 17, a senior who plays baritone saxophone, has been in the ensemble since he was a freshman and has noticed a difference since Schreiber took over. Garcia said Schreiber is strict when he needs to be, but also laid back as a band director.
"We've always been a great group together, but over the past few years, we've really improved," said Garcia. "He has helped us grow through his leadership and charisma. He challenges us by using harder music and pushing us beyond our comfort zone.
"I'm proud of being able to represent Kingman as a group to other cities that didn't know we existed."
Lily Rhoades, 17, a senior who plays bassoon, has participated in the ensemble for four years. Rhoades said she is proud of the recent growth that has enabled the group to bring trophies home from California.
She also points to Schreiber as the driving force behind the changes in the wind ensemble's status.
"He's always challenging us to do better," said Rhoades. "He has incredible leadership skills and can read the mood of the band, using it to encourage us to move forward."
The wind ensemble will participate in a free concert with the KHS concert band at 7 p.m. today in the school's auditorium.
Click for home delivery with comics, grocery deals, inserts, TV listings, coupons and more
More like this story