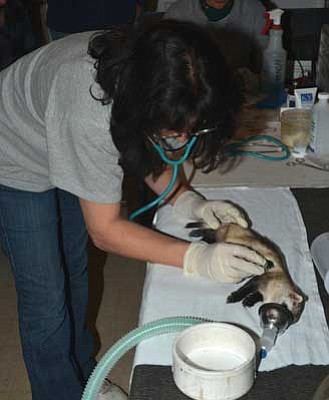 Originally Published: May 17, 2013 6:01 a.m.
SELIGMAN - Every spring and fall, Arizona Game and Fish personnel and volunteers spend their evenings finding and documenting the endangered black-footed ferret.
In March and April, department personnel and 185 volunteers captured and processed 31 ferrets, which is considered the minimum population. In all, 46 ferrets were captured, but 15 of those were recaptures.
After several years of establishing population records, the spring effort leaves the number well short of last year's record of 123 with two fall spotlighting efforts remaining.
"It's not a huge surprise," said Jennifer Cordova, supervisor at the reintroduction site. "As the population has increased, the ferrets have dispersed a bit throughout the range. We have found ferrets in areas that weren't on our initial survey routes.
"And the 31 is a minimum population. We had an additional 57 ferrets spotted, but not captured. Because they weren't captured, they aren't included in the overall results."
Of those captured, two were recaptures from 2010, two were from 2011, and nine were from 2012.
Spotlighting allows the department to document a minimum population, longevity, range and health. If issues like disease arise, biologists have the ability to address a specific problem quickly.
In just the last 10 years, black-footed ferrets in Aubrey Valley, located just west of Seligman, have reached a population high enough to be considered self-sustaining, meaning no captive-bred ferrets are needed to maintain a population.
Cordova said a small spotlighting effort will be held during the summer prior to the fall efforts in September and October.
Cordova credits the continued support of the public and the Heritage Fund in the recovery of the black-footed ferret. The Heritage Fund provides the financial means for Game and Fish to be the lead agency with no cost to Arizona taxpayers.
The black-footed ferret crew will continue spotlighting efforts in the fall.
Anyone interested in volunteering or obtaining additional information can write to azferret@azgfd.gov or call (928) 422-0155.
To receive current information from the Game and Fish Region 3 office in Kingman, search for "Azgfd Kingman" on Facebook.