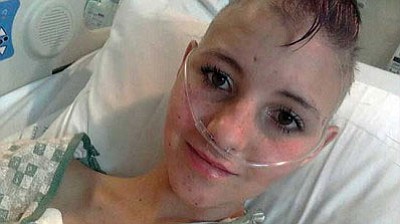 Originally Published: May 20, 2013 6 a.m.
Several weeks ago, Dani Curling, one of our 8th grade students at White Cliffs Middle School, was diagnosed with Stage IV Leukemia. Since that time she has been hospitalized in Las Vegas.
We want to take this opportunity to commend our students and staff at White Cliffs, as well as the community, for their fundraising efforts and outpouring of support for Dani and her family.
Our middle school track team scheduled a run-a-thon where students secured either flat donations or pledges per lap. They had one hour to run. One of our students ran 20 laps that hour (that's five miles)! Altogether the team raised over $1,300!
On April 28th, our Student Council helped coordinate a car wash where an additional $1,000 was raised. While making preparations for the car wash, the Student Council advisor had a student hand her a $100 bill, telling her he had worked extra since he heard what was going on with Dani and wanted to help.
One of our students has designed and organized a dodgeball tournament for later this month, with all the proceeds going to benefit the family.
Combine all of that with the cards, banners, stuffed animals, hats, prayers, etc., and we cannot tell you how proud we are of our students and staff here at White Cliffs. They truly have embraced our school motto of "Be Better."
Cliff Angle, M.Ed., Principal
Tonia Cobanovich, M.Ed., Assistant Principal
White Cliffs Middle School
Kingman