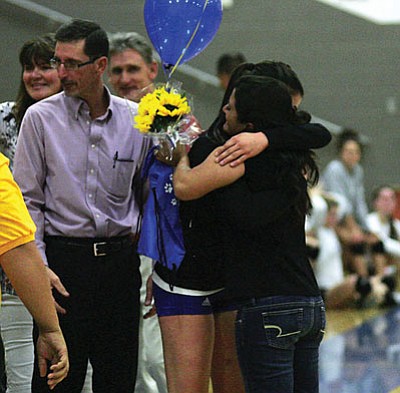 Originally Published: May 23, 2013 6 a.m.
KINGMAN - Kingman High will close out another school year today by graduating 376 seniors, but for athletic director John Venenga, the hard work is just beginning.
With the resignation of KHS head volleyball coach Traci Rosenbach, Venenga has to fill her position along with two other fall head coaching positions along with numerous assistant coaching spots, including getting new football coach David Ward a coaching staff to work with.
All of this has to be done before the start of fall sports practices, which are set to begin around Aug. 1.
"Football goes all summer, so we really have to get some help for Coach Ward," Venenga said. "The head coaches are the key, head volleyball, head swimming, head spirit line. Those are the priorities."
In addition to Rosenbach's resignation, swim coach Maggie Alexander won't be returning after she took a job in Colorado and spirit line coach Jessica Bathauer is moving on to a position in the Phoenix area.
"I definitely will miss coaching volleyball," Rosenbach said. "I have been coaching for 12 years at different levels so it will be hard to take a break from it."
Rosenbach, who doesn't teach within the district and is a stay-at-home mom with four small children, said the time commitment for volleyball made it tougher to balance her responsibilities as a coach and a parent.
"I have to miss watching their activities and sporting events," Rosenbach said. "The travel for volleyball burns you out after a while. Since I am a stay-at-home mom now, I have to find babysitters when I travel for volleyball."
In her three seasons as KHS volleyball coach, Rosenbach took a team that went 6-11 her first year and turned the program around to a 10-7 finish this past year.
Her highlight in the past three years came this past season when the Lady Bulldogs won the Mary Jo Goldey tournament after coming in second the year before.
"One of my other highlights of coaching was watching the girls in the program grow as young adults as well as players," Rosenbach said. "Being able to coach some of these girls has been an honor and joy for me."
Besides coaching volleyball, Rosenbach is also head coach of the girls tennis team, which has slowly become one of the top teams in the state. They finished this season 11-2 and eighth in the Division I power points, and hosted a state tournament match.
Rosenbach said she is still on the fence about coaching tennis.
"I will give it some time to think about it and decide if I will return to coaching tennis."
As for a possible return to volleyball after her children get a little older, Rosenbach left the door open.
"I have been struggling with this decision for a while now, but it is the best decision for my family," Rosenbach said. "I wouldn't doubt I would come back to coaching volleyball someday. I may miss it too much."
Click for home delivery with comics, grocery deals, inserts, TV listings, coupons and more