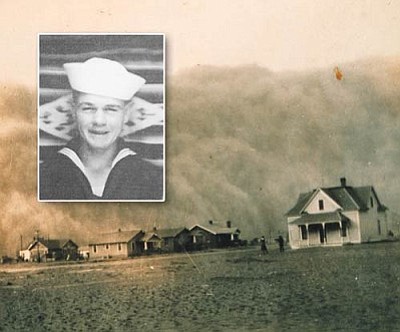 Originally Published: May 26, 2013 6:01 a.m.
KINGMAN - The rolling dark clouds came boiling in from the Kansas plains. Once the strong winds delivered the mountains of dust, even the prairie dog crawled to the bottom of his hole to wait out the storm. Whole flocks of geese were found in the fields, killed by suffocation.
The above paragraph, written by retired Kingman Unified School District educator Joe Williams in his unpublished autobiography, offers an increasingly rare eyewitness account of what life was like for those who endured the Dust Bowl, or the Dirty '30s, or The Great Plow-Up.
Whatever you want to call this 10-year period of drought and dust and death, to Williams and his struggling family and thousands of others, life was one hardship after another, heartbreak after heartbreak.
"Those were really rough days," said Williams, 86. "My baby sister died at 6 months old of Dust Bowl pneumonia. My older sister survived."
Joe Williams Sr., Joe's father, made Doris Marie's tombstone out of cement. The baby's marker still stands in the Dalhart, Texas cemetery.
Born in a boxcar on the side of the railroad tracks in Texline, Texas, on April 12, 1927, Williams was one of five siblings.
The wheat boom was on and farmers plowed up every square inch of dirt they could find to plant the cash crop.
Then the bubble burst and the response was to plow up even more land, hoping the extra yield would make up for rock-bottom prices.
Then the drought came. There was nothing to hold down the 100 million acres of plowed up soil, so the wind picked it up and carried it like billions of gallons of water bursting from a broken dam, sometimes as far as New York City.
The Dust Bowl remains America's worst man-made ecological disaster and it couldn't have come at a worse time.
The Great Depression was on and millions were out of work. Nowhere was the pain felt more than in the Oklahoma and Texas panhandles, Kansas and eastern Colorado, where the double whammy of drought and depression knocked people flatter than the land they tried to tame.
Black Sunday
April 14, 1935 was one of the worst days of the entire decade. Known as Black Sunday, 20 of the most destructive dust storms of the era swept down from Canada all the way to Texas.
The black dust turned day into night.
"That was the blackest dust storm we ever saw," Williams said. "It was the first and only time I ever saw my dad run in my life. He made it to the back door just when it hit. He couldn't see his hands in front of his face."
Shovelfuls of fine dust entered the home after each storm. A thick coat would settle in the attic and sift through the cracks, said Williams. Everybody in the region wore masks or wetted towels to put over their face. It was the only way to keep the dust out of their lungs.
"There were a lot of black Sundays, but that one was the worst. Those were hard days, but good days, too," said Williams. "But we didn't think the Dust Bowl was ever going to end."
Daddy worked hard
Like many men at the time, Joe's father did anything and everything he could to keep his family alive.
"My father was a real worker," he said. "He only had a third grade education, so all he had to offer was his muscle, but he was a good provider. Daddy worked hard. He would work at any kind of job and the most he was paid was 10 cents an hour."
The very young and the very old were most susceptible to Dust Bowl pneumonia. Joe Sr. got a job digging their graves at $3 per grave.
"One day he came home with $15, but we soon got to the point we didn't have any money. Daddy decided we were going to try to get out of there.
"We had to get food from the welfare office. My mom practically had to beg for it, and we didn't like it, but we would have starved."
Williams' older brother had a Chevrolet two-seater and the Williams family loaded everything they could into and on top of the vehicle.
Migrant workers
"We went to Colorado to pick peaches," he said, "and we looked just like the 'Grapes of Wrath.'"
The trip started ominously as a flat tire stalled the family about 30 miles in.
"We had no spare, no jack, but we did have a pump. We used a fence post and the weight of the family to lift the car. Daddy fixed the tire and we made it to Grand Junction, Colorado, but not before he replaced the post."
Nobody knew it at the time, but the family would spend the next year living outdoors.
"We camped on the side of an irrigation ditch and had to drink muddy water," he said of life in Colorado. "My mom would put it into a tub and we'd wait for the dirt to settle before we drank. It tasted awful."
Rains came and washed away the camp and it took a couple of days for the family to locate essential gear the storm washed away.
Williams' parents, older brother and sister-in-law picked tomatoes for four days before the peaches were ripe for picking.
The foursome was paid every day and that meant the family managed to eat every day.
"We ate good, too," he said.
While Williams was too young to pick peaches, the cotton patch waited, and so did the young boy's first job.
"After the peaches were gone we started out for Buckeye, Arizona," he recalled. "The cotton wasn't very high and it was hot, muggy, sweaty, dirty work, but we made a living. The gnats were awful. They'd fly into your mouth."
After the feeble cotton played out in Arizona, the family moved on to Las Cruces, N.M., he said, where the cotton was high and lush by comparison. Life, he said, became a little easier.
"We lived in a chicken house," said Williams. "That was the first roof we had in about a year and we liked it there. We had a well with fresh water and plenty to eat, but Daddy wanted us to get back to Dalhart in time for the school year."
Williams was grateful to return to the classroom, where every student got free lunches.
"That was the only good meal we had."
The family's luck improved when a train knocked out a roundhouse used for servicing locomotives.
"We grabbed those bricks and Daddy and me and my little brother did all the work to build a three bedroom house on the north side of Dalhart. That's when we got electricity and indoor plumbing. I was 17. That house was the nicest one on the north side of town then and it's still the nicest house."
World War II
In the last days of WWII, Williams joined the U.S. Navy the day after he graduated high school.
He was sent to San Diego in 1945 and after boot camp he caught a troop transport that took him to the Marshall, Carolina and Philippine islands.
"We dodged a (Japanese) submarine the whole way," he said. "But the war was over so we took troops from the Philippines for occupation duty in Japan."
Williams was part of a convoy of seven Landing Ship, Tanks, commonly known as LSTs, which carried men and equipment, primarily on amphibious missions. The convoy was hit by a severe typhoon that knocked out communications between ships. The six other ships unknowingly sailed away, leaving Williams and his shipmates stranded with all of the ship's motors knocked out.
With help from the Army troops, the men repaired the motors and re-secured the tanks, jeeps and bulldozers that broke from their chains in the storm.
They delivered the troops to a base about 12 miles from Hiroshima, a city devastated by the atomic bomb known as Little Boy the U.S. dropped on Aug. 6, 1945.
About 90,000 Japanese were killed in the initial blast and subsequent firestorm and more than 150,000 others died in the weeks and months and years following the bombing. A second atomic bomb dubbed Fat Boy fell on Nagasaki three days later.
"We took a tour of Hiroshima," said a somber Williams. "We were the first sailors to see the city because they had just bombed it a couple weeks earlier.
"Hiroshima was pretty much flattened out and it killed a lot of people. You could see a few buildings still standing but we didn't see very many people. It was a depressed place."
The Japanese they did see were starving, he said.
"Before we pulled out, we had a bunch of boiled eggs. You should have seen them scrambling for those eggs. They would have done almost anything for something to eat."
Peace treaty
Williams and his fellow sailors were ordered to Tokyo Bay to witness Japan's surrender on Sept. 2, 1945.
"We were tied up in the Yokosuka docks and we could see the Missouri in the middle of Tokyo Bay. There was U.S. ships, Russian ships, British ships and French ships."
The USS Missouri was where Gen. Douglas MacArthur and other key players from both sides of the conflict signed the agreement that ended the war.
Williams was able to get his hands on two Samurai swords and a Japanese rifle.
"There were thousands of rifles and Samurai swords and you could help yourself," he said. "So I did."
The memory of what he witnessed as an 18-year-old in Hiroshima has stayed with him through the decades.
"Any nation that has that weapon and uses it, they better think twice," he said. "It was a terrible thing."
Post-war life
Because the U.S. military rapidly downsized after the war, Williams was honorably discharged after about 18 months of service. The sudden relief from his duties allowed him to pursue a lifelong dream to get a college education.
"Thanks to the G.I. Bill, I got to go," he said. Williams earned his bachelor's degree and later went on to earn a Master's degree in education. He coached football, basketball and softball and at 24 became the youngest person in Texas to ever become a school principal.
"I didn't like that job," he said, "so I went to Dallas after I quit and taught there for several years."
He then taught in Odessa, in West Texas's giant oil patch known as the Permian Basin, a town he didn't much care for.
"I couldn't wait to leave that place," he said.
Next up was a teaching job in Southern California and finally to Las Vegas. In between, he married and divorced and fathered three children.
He moved to Las Vegas without any prospects, but providence smiled on him.
"I had a job 30 minutes after I arrived."
In Las Vegas he taught science at Gibson Jr. High and met and married Darleen, the school librarian who is 11 years his junior.
Two daughters were born and after a short stint in Ohio where Williams earned his masters, the family headed west and, again by providence, found a home in Kingman.
Kingman is home
The Williams family was on the way to Phoenix when they stopped to get gas in Kingman in the early 1970s.
"I asked this old boy at the Shell station, it was by where Locomotive Park is now, if he knew where any teaching jobs were," he said. "Turns out they were looking for a librarian and a principal and we've been here ever since."
There were about 8,000 people in Kingman at the time and downtown was a true downtown, where all the shopping outlets and restaurants were.
They bought a home close to where the fairgrounds are for $25,000 and they still live there today.
One of their daughters works in Kingman at Mohave Community College and the other lives with her husband in Phoenix where they are raising twins.
He has two daughters from his first marriage. One is a retired school administrator and the other is a graphic artist at a newspaper in Texas. A son from that marriage, Leslie, died at the age of 35.
He and Darleen, an organist at St. Mary's Catholic church in Kingman for 20 years until her health prompted her to step down in 2009, have six grandchildren and 12 great-grandchildren.
One of those grandchildren, Krista, works for the city. Her younger brother graduated last week from the Kingman Academy of Learning.
Krista eats lunch at her grandparents' home every workday.
"We're all very close," said Darleen.
Renaissance man
Williams has stayed busy since his retirement in 1989. Along with his autobiography, he's written about 10 western novels, but he's never been published.
He gave an unethical book agent $500 to publish the first one he wrote and never heard from the guy again. That soured the experience for him, but he keeps writing.
He paints landscapes and is learning how to play the guitar.
He survived the Dust Bowl and the Great Depression. He witnessed the wholesale devastation wrought by an atomic bomb. He lived and loved and raised a family.
And at 86, Joe Williams still has something worthwhile to give the world.