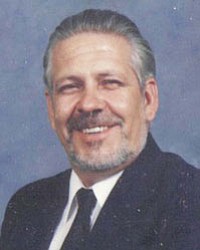 Originally Published: May 30, 2013 5:03 p.m.
Clarence Leland Shutts, 70, passed away Monday morning, May 20, 2013, in his home in Golden Valley surrounded by his loving family.
He moved to Kingman in 1973 from Ohio. Clarence was a 1962 graduate of Zaleski High School in Zaleski, Ohio.
He excelled in basketball, track and shot put. In 1982, Clarence married Sharon Murphy and together they raised her ready-made family of four children, Anthony, Elizabeth, Benham and Leander Murphy. Clarence loved the outdoors, fishing, camping and western movies.
Clarence was preceded in death by his grandmother, Alice Shutts; mother, Nellie Trout; father, Clarence L. Shutts; sister, Linda Shutts; and brother, Richard Bolton.
He is survived by his loving partner, Sharon Shutts; stepchildren, Anthony Murphy, Elizabeth Murphy, Mark Alcott, Benham Murphy, Dustin Murphy and Leander Murphy; grandchildren, Mckenzie Murphy and Katie Murphy; sisters, Loretta Fulton, Joyce Anne Smith, Janice Clowes, Jane Snider, Brenda Coleman, Tammy Martin and Shirley Fay Corbin; brothers, Kenneth Shutts, Rodney Shutts, David Shutts and Timmy Shutts. Clarence leaves behind many loved nieces and nephews.
Clarence instilled in his family the importance of a good education, a love of sports and fishing. He will be missed by all of us who loved him and those who knew him well.
In lieu of flowers, donations can be sent to Kingman Regional Medical Center Hospice.
A memorial service will be announced at a later date.
Thoughts and condolences may be submitted to the family at www.lietz-frazefuneralhome.com.
Arrangements were placed under the care of Lietz-Fraze Funeral Home and Crematory of Kingman.