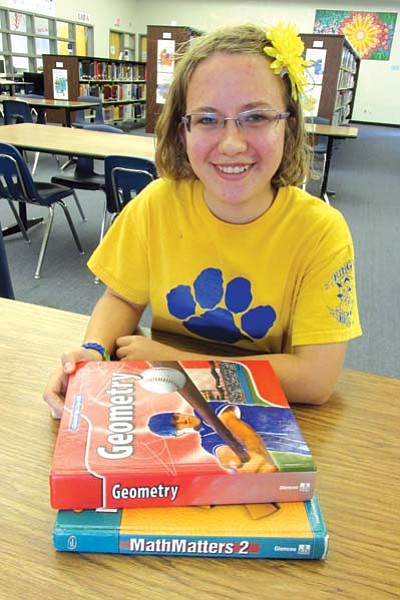 Originally Published: May 30, 2013 6 a.m.
KINGMAN ­- To most people who know Christina Tatalovich, it comes as no surprise that the Kingman High School sophomore aced the required state math test the first time she took it.
"I've never seen this happen before, but I'm not surprised that it did with Christina," said Principal Patrick Carey. "She is just a very bright young lady and she's a charm to have on campus."
Tatalovich, 16, passed the Arizona Instrument to Measure Standards (AIMS) with flying colors on her first attempt earlier this year.
Each student in Arizona has five opportunities to take the test during high school, beginning in the sophomore year. Students also are required to pass AIMS tests in reading, writing and science to graduate.
Craig Wilson, Tatalovich's math teacher this year, also expected her to do very well on the math test. Wilson said he hasn't seen a Kingman High School student pass the AIMS math test with no mistakes in the 27 years he has taught at the school.
Still, he said he wasn't surprised when he heard that Tatalovich aced the test.
"Christina is an outstanding student," said Wilson. "This is the first year I've taught her, and I would say she's very gifted and is an extremely hard worker. Two students stand head and shoulders above the crowd in my classrooms, and she's one of them. She came in with natural math skills and I didn't get to add a lot to what she already knew."
The AIMS math test wasn't difficult, said Tatalovich, because it used the basic algebraic concepts she already knew.
Tatalovich said she aced the middle-school version of the AIMS math test in eighth grade, so she wasn't surprised to do the same in 10th grade. She said she enjoys solving problems and has always been good in math.
"It's fun to solve math problems because it uses a part of the brain where you pick things apart and figure them out," said Tatalovich. "It was pretty exciting and cool for me to get a perfect score."
Tatalovich said part of her attraction to math comes from having synesthesia, a rare condition that causes stimulation in one sensory pathway to trigger an experience in another, such as hearing colors, seeing sounds and tasting smells.
Tatalovich said she has always attached colors and personalities to numbers, which has made the equations fun and interesting.
Mary Marshall, public information officer for the Arizona Department of Education, said Tatalovich's perfect score is impressive.
Marshall said she couldn't give a number for how many students in Arizona aced the AIMS math test this school year because the agency is still compiling the information and won't know until June.
"It's a highly unusual event to get 100 percent on an AIMS test," said Marshall. "It's an exceptional achievement and this student should be proud of herself."
Click for home delivery with comics, grocery deals, inserts, TV listings, coupons and more