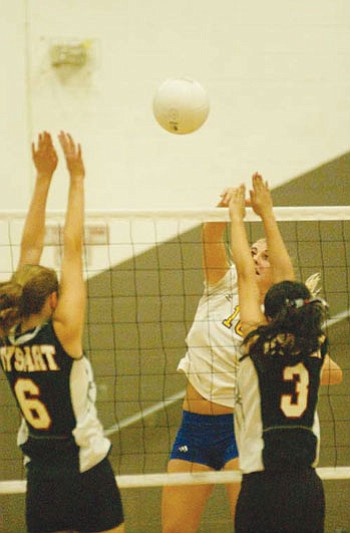 Originally Published: November 1, 2013 6 a.m.
KINGMAN - Entering Senior Night on a four-match losing streak that proved costly by not earning a state tournament bid can add a little more pressure than normal, but the Kingman High volleyball team answered the challenge with a convincing 25-16, 25-7, 25-9 win over Dysart Wednesday at KHS.
The first goal the Lady Bulldogs set for themselves was to play in a relaxed state.
"We wanted to come in focused and excited to be here," coach Salina Fogg said. "They were, and warm-ups went great. They were nervous coming in wanting to play well in front of family and friends, and they did that, too."
Getting to that relaxed state and playing well wasn't easy for the Lady Bulldogs.
"It was really hard, but we knew it was coming," senior hitter Rachel Arave said about Senior Night. "There was a lot of emotional stuff because we've played together for eight years."
After KHS (10-8) beat Bradshaw Mountain Oct. 10, it was still in contention for an automatic berth in the playoffs. What followed was that four-match skid. That was the second goal for the Dysart match - stop the downslide.
"The kids were getting frustrated," Fogg said. "We knew we could compete against those other teams."
In beating Dysart (1-16), the Lady Bulldogs dominated the net for a total of 31 kills, led by senior Taylor Reed's 10, sophomore Desirae Gonzalez' seven and senior Rachel Arave's five. Senior Gabby Huffer set her teammates up with 36 assists.
"Dysart didn't have a lot of height," Fogg said. "But they were scrappy and played their defense."
Another component to the Lady Bulldogs victory was the Demons' inefficiency on offense. Dysart finished with 34 errors for the match.
In the first set, KHS held a slight early lead, 8-5, but took the next 16 of 22 points to reach set point, 24-11. The Lady Bulldogs stumbled a bit until senior Toria Williams sent over a tip kill to seal the set, 25-16.
KHS senior Heather Weninger got the Lady Bulldogs off to a quick start when her rainbow-like serve had the Demons befuddled. KHS went up 9-0 and never looked back to take the second set, 25-7.
Though the Lady Bulldogs lose six seniors for next year's roster, Weninger believes if the younger players apply themselves, success could follow.
"If they practice hard, they should do well next year," she said.
Serving was a menace to the Demons again in the third and final set, but this time it was Williams and Gonzalez who led the way for KHS. Williams won nine points in a row to take a 2-2 set to 11-2. Later, Gonzalez took it from a 12-8 lead to 18-8, and the Lady Bulldogs prevailed, 25-9.
Senior Alison Owen led KHS defensively with five digs.
Though the Lady Bulldogs fell short of their lofty goal of going to state, Fogg said a big reason for the success they did have lands on the shoulders of her assistant coach, Sarah Casson.
"Sarah was a volunteer and she made all of the morning practices," Fogg said. "She has been at my side the whole time, and I couldn't have done it without her."
The six seniors have seen a lot of court time over their high school careers, and Fogg knows that next year's returners have a big challenge.
"They will have some big shoes to fill," the coach said. "Our entire JV team is made of juniors, and the other juniors on varsity have stepped up. I just wish we could have gotten them more game time, but it's hard to do when you have six seniors."