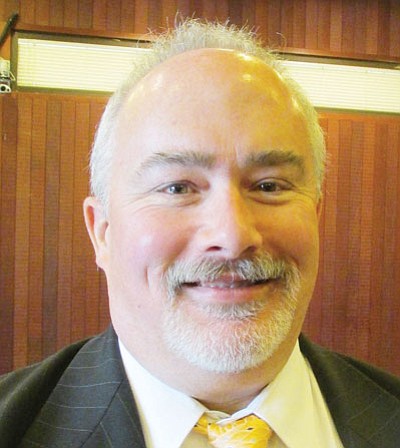 Originally Published: November 3, 2013 6 a.m.
KINGMAN - John Dougherty considers his budgeting skills to be his strongest asset as a public administrator, and that may be why the City Council on Friday voted unanimously to offer him the city manager position.
"I am so looking forward to this," said Dougherty. "I plan on hitting the ground running."
Dougherty said he is aware of the city's financial woes and he thinks he could help Mayor Janet Watson and the City Council right the ship.
"Finance is my strongest suit," said the former city manager of Reedsburg and Oconto Falls, both in Wisconsin.
"Nothing in Kingman is unique," he said. "This is all due to the down economy, which supposedly ended two years ago, but I doubt that is the case for too many people."
Dougherty said he runs a "very conservative" budget, and he might have some ideas on developing a stable revenue stream - or at the least stabilize an existing budget that is shaky at best.
He said Oconto Falls was on the verge of filing bankruptcy when he interviewed for the job in the summer of 2002.
In fact, Oconto Fall's city staff was directed not to show him the city's budget before he was hired.
"They were afraid if I saw it I wouldn't want to work there. I told them I didn't want to be in a city that was going to declare bankruptcy."
Dougherty said Oconto Falls' then-mayor urged him to stick it out. "He said we'd get through it, and he was a man of his word."
Dougherty said the city was borrowing money from the municipal utility company to make its monthly bills when he started. The first thing he did was create a 14-month bare-bones budget and cut the number of employees. For the next six years he was there, Dougherty's budgets consistently fell in line with the recommended ending fund balance.
He said he is unsure where the city of Kingman could cut costs at this stage - the city has steadily downsized since the Great Recession struck five years ago - but he seems to think the number of city employees is about as low as could be without impacting the delivery of services.
He also said he would try to lift a five-year freeze on pay raises for employees, though he tempered that by adding the revenue will have to be there to justify doing so.
"I'm confident we can work together and try to squeeze a dime until we get back a nickel," he said.
Dougherty is the father of two adult daughters. He will move to Kingman with his wife of 25 years.
Watson and Council members met in closed session for more than an hour before announcing their choice.
Dougherty, 54, prevailed over Kingman native Travis Lingenfelter and Utah resident Konrad Hildebrandt.
Each of them, said Watson, brought something unique to the table and she said the decision was an "ordeal" for the Council to make.
She thanked them for their interest in the position. Councilman Dick Anderson said all three were "extremely well qualified" and the decision was "very tough."
Dougherty said he hopes to start work on Dec. 2, the Monday following the Thanksgiving holiday. The City Council is apparently just as eager. Contract negotiations get under way at 3 p.m. Monday in a closed special meeting.
Click for home delivery with comics, grocery deals, inserts, TV listings, coupons and more
More like this story