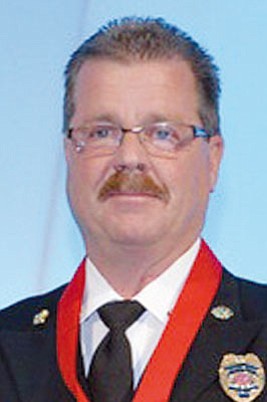 Originally Published: November 4, 2013 6 a.m.
KINGMAN - Two Golden Valley Fire District Board members shot back at those trying to oust them from office, saying their opponents are really trying to get rid of Fire Chief Tom O'Donohue.
Golden Valley Fire board members Steven Robinson and Curt Hardy responded on Thursday to some of the accusations leveled at them in paperwork filed to recall them from action. Another board member, Rhonda Brooks, did not respond to repeated calls for comment.
The recall is an attempt by some community members to get rid of O'Donohue by getting rid of the board members who support him, Robinson said.
They don't like the way O'Donohue runs the department, he said. They don't like the physical and education requirements he puts on the firefighters or the captains.
"There were some people (eight years ago) who wanted the district to remain a volunteer department with no physical or education requirements, but we had grown too much," Robinson said. "There's a very small, very vocal minority that doesn't like the way the district is run."
Hardy agreed.
"There's a lot of misinformation and rumors going around," Hardy said. "There are some disgruntled folks out there."
It all goes back to 2009 when a new fire board was elected and they decided to hire a new fire chief from outside the district instead of promoting from within, Hardy said.
Mark Fredrick, who served on the board in 2009, shed more light on the situation.
"The department used to have a kind of country club atmosphere," he said.
There were some people in the department who wanted to be paid for sitting around all day doing nothing, Fredrick said.
When the board hired Chief Paul Hewitt and then Assistant Chief O'Donohue in 2009, they instituted physical, education and budget requirements that some of the firefighters and department captains didn't like, Fredrick said. It was the first time that many of the firefighters and captains had to do any training for their jobs and they had to keep a budget.
When Hewitt left in 2011, the board decided to promote O'Donohue to chief. O'Donohue continued many of the same programs Hewitt started, Fredrick said.
"They (Hewitt and O'Donohue) really helped to put the district in the position it is now," Fredrick said. "Everything in that district was paid for and the community is now well served by the fire department. It's a well-oiled operation."
Paperwork to recall all four board members was filed in October. Golden Valley residents Bill McCarter and Jeri Feneis filed petitions to recall board member Rhonda Brooks Oct. 4. They claim she's trying to sabotage district operations, attacking staff with anonymous complaint letters and refusing to communicate with the other board members.
Golden Valley resident Sharon Borden filed petitions against the three remaining board members - Steven Robinson, Curt Hardy and Mark Vanik - on Oct. 17. According to her petition paperwork, Borden claims that the three board members have failed to keep the community properly informed about how the district is spending taxpayers' money, that the new fire station was $300,000 over budget and that Arizona Open Meetings laws have been broken. The recall petitioners have until Jan. 4 and Jan. 17 to collect and submit 483 valid signatures to the Mohave County Elections Office for an election to be called. If the signatures are collected and verified and the issue goes to the ballot, the earliest an election could be held would be March 10.
Robinson and Hardy say Borden's claims are nonsense.
"The new fire station was bid out on contract," Hardy said. "That contract didn't include the cost of land, the driveway, the concrete pad and the furnishing for the building. All of that was approved by the board later."
Robinson agreed with Hardy. The district is on sound financial footing, he said. Everything has been paid for and there is no overspending.
As for the open meeting law violations, that may refer to several informal meetings O'Donohue had with various board members when he was planning the budget, Robinson said, or some of the executive sessions the board held when discussing O'Donohue's contract and the budget. A lot of it is just unfounded rumors, he added.
Robinson said he backed the recall petition for Brooks because of the amount of time the board has lost over the last eight months trying to answer her questions. The questions should be addressed to O'Donohue, but Brooks refuses to meet with the chief, Robinson said.
She's been such a drag on the department that the board asked her to resign and censured her in July when she refused to resign, he said. She's acting as a voice for a small minority that doesn't like the chief.
Fredrick thinks the whole board needs to learn how to work better together.
"This recall is really just a waste of time and money," he said. "They need for someone to give a different opinion. Brooks is voicing the opinion of others in the community and the board is handling it badly."
Click for home delivery with comics, grocery deals, inserts, TV listings, coupons and more