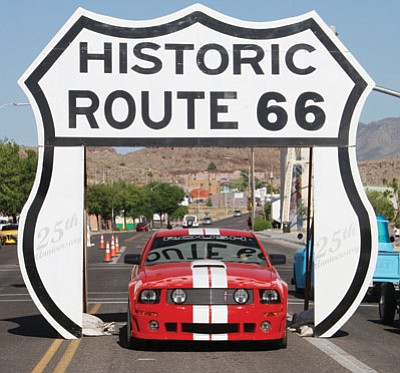 Originally Published: November 5, 2013 6 a.m.
KINGMAN - The operator of Grand Canyon West and the Skywalk has signed on as the title sponsor for the 2014 Route 66 International Festival that Kingman will host Aug. 14-17.
Owned by the Hualapai Tribe, the Grand Canyon Resort Corporation will partner with the Route 66 International Festival to host the event, which draws tens of thousands of people when it's held in a different community along the iconic route each year.
With nine months left before the event kicks off, organizers have already scheduled myriad events, according to Josh Noble, executive director of tourism at the Kingman Visitor Center.
There will be vintage car, motorcycle and travel trailer shows, and a conference on transforming Route 66 into America's first All Electric Highway complete with solar charging stations all along the route.
Other events include golf and bowling tournaments, the Route 66 Authors, Artists and Collectors Exhibit in the newly constructed Beale Street Celebration Center, a VW Bug fest, film festival, sock hop, concerts, barbecues and wine tasting "from the Hualapai Mountains to the Valle Vista Wine Country of Kingman."
The Route 66 Alliance is the parent organization, and it's also the group that helped Kingman land the coveted festival.
Joplin, Mo., hosted the festival last August, and thousands of visitors from about half the states and more than a dozen countries were in attendance.