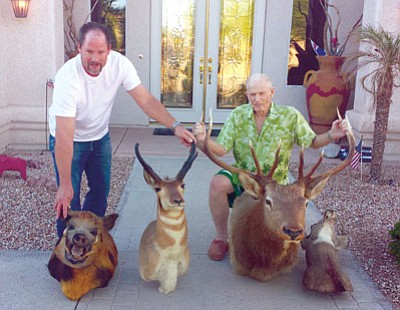 Originally Published: November 6, 2013 6 a.m.
LAKE HAVASU CITY - His voice now is just a whisper - you have to lean in to hear him - but when longtime outdoorsman and hunter Tom Molzen from Lake Havasu City offered to donate some of his cherished big game mounts to Kingman's Arizona Hunter Education team, I couldn't wait to see the collection.
His home is like walking into Cabela's or Bass Pro Shops. His den has a wonderful collection of big game mounts gathered over 40 years as an outdoorsman - an elk, desert bighorn sheep, antelope, mule deer, black tail deer, a huge eastern whitetail, plus exotics such as Fallow deer.
On one wall was a collection of game birds the likes of which I had never seen before.
There were more in his garage, animals taken on hunts all over North America and in Africa.
After being diagnosed with terminal cancer, Molzen decided to donate his collection of personal trophies to the hunter education program. This act of kindness and generosity was truly appreciated by this fellow outdoorsman.
He offered almost all of them, but in the end I took an antelope, mule deer, elk, and a bison skull on a plaque, and just to show those in our class the difference between a javelina and a feral pig, I took a mounted boar that Molzen snagged in California.
Molzen could tell you the stories of where and when he took every animal in his collection. He even remembered the names of those who were with him on those hunts.
The mounts will be used by the Kingman hunter education team as well as by other instructor teams in Mohave County who want their students to see what these magnificent animals look like in the wild.
"The hunter ed team is honored to receive the mounts, representing a lifetime of sporting achievements and treasured memories of Mr. Molzen," said Jim Rich, chief instructor for the Mohave County Hunter Education program. "We will have them on display for future hunter education students who will be aided in learning about the amazing game animals that have been aided by the North American model of wildlife conservation."