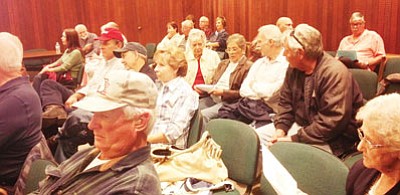 Originally Published: November 7, 2013 6 a.m.
KINGMAN - Two facts became crystal clear Tuesday when the City Council held a workshop to discuss Kingman's dismal financial situation.
One: If a stable revenue stream isn't soon identified and put in play, the city will have no choice but to dramatically cut services as early as 2016. What services might be cut is anyone's guess at this point, but it's likely a given more employees would be terminated since salaries represent the city's largest expenditure.
Two: Neither Mayor Janet Watson nor Council members have an appetite for a fight to reinstitute a primary property tax after a more than three-decade absence.
A spring election in which voters would be asked to put the burden of stabilizing the budget on property owners could cost between $50,000 and $80,000, with no reasonable expectation of success in the absence of a wholly effective public relations campaign.
The city of Kingman is currently in the recovery stage following the Great Recession, said Watson, who noted Kingman follows the Government Finance Officer's Association processes for recovery from financial distress.
Tuesday's workshop focused on the financial risk in which the city finds itself. There were about 40 residents in attendance, most of whom oppose the potential imposition of a primary property tax.
The City Council in a mid-October workshop discussed asking voters to implement local property taxes, which would be used to fund the Kingman Fire Department.
Primary property taxes haven't existed in Kingman since 1980.
No decision was made and the informal public budget discussion was one of many the City Council will likely schedule in the coming months to address the budget crisis, which has been on their radar for a few years.
If voters ever approve the measure, the property tax would be set at $3 per $1,000 in assessed value, or about $300 a year for the owner of a $100,000 home.
Finance Director Coral Loyd projects the tax would raise about $6 million, which is the current cost to fund the fire department.
Regardless of what is done to stabilize the city in the future, how it fell into crisis is no mystery.
The City Council that existed in 1980 voted to eliminate a primary property tax that at the time was 79 cents per $100 of assessed valuation.
That formula would raise about $2.9 million today, according to Loyd.
That year the City Council doubled the transaction privilege tax from 1 percent to 2 percent for purchases less than a few thousand dollars.
Purchases involving several thousand dollars, such as for a vehicle, remained at 1 percent until about 1990, when 2 percent applied to all purchases regardless of the cost.
In 1987 and 1988, voters approved home rule for the first time after Kingman outgrew the state expenditure limit and a 2 percent room tax was adopted.
Development investment fees were adopted in the boom days of 2005 and eliminated a couple of years ago after the boom went to bust in dramatic fashion.
In 2010 an additional 2 percent room tax was adopted, bringing a present value of $350,000 a year.
In 2011 and 2012, a 2 percent restaurant and bar tax was implemented. One percent was dedicated to highway user funds and one percent to public safety capital purchases. The increased revenue raised was $1.2 million, but it only lasted a year. The tax was reduced by 1 percent effective last July 1.
Currently, the city relies far too much on revenues generated through the transaction privilege tax, commonly known as sales tax.
"All of our eggs are in one basket," Loyd said, and the basket has shrunk by $5 million in revenue since fiscal year 2007-2008, before the recession hit.
Loyd said the city has cut expenses to match diminished revenue. Eleven percent of the city's workforce has been cut, she said, and employee salaries and benefits continue to be the city's largest expenditure.
There are 332 employees currently on the payroll. More than 40 positions have been cut and remain unfilled, according to Human Resources Director Jackie Walker.
Indeed, Loyd through the City Council has trimmed more than $5 million from the expense side of the ledger to keep costs below revenue in each of the last five years.
The city lost more than housing money when the recession hit, said Loyd.
To balance its own budget, the Arizona Legislature has sharply diminished or swept entirely the payment of Highway User Funds, lottery revenue and other state resources that traditionally were shared with the city of origin.
Federal grants the city long relied on have fallen by the wayside and despite a recent uptick in the state and local economy, Kingman continues to struggle.
The implementation of last summer's half-cent increase in the sales tax - the city's sole local revenue source - is projected to add about $2.5 million to city revenues, but the impact is significantly diminished by the $600,000 the city lost when it agreed to reduce by 1 percent the restaurant and bar tax, leaving a net balance of $1.9 million, said Loyd.
At risk is the city's "creditworthiness," said Loyd, particularly when it comes to the interest rate the city pays for major projects.
While its debt service rating is solid, the lack of diversified revenue sources harms the city. If new revenue isn't found, the City Council could be forced to take draconian steps.
At best, said Loyd, such measures might not be necessary for five or 10 years - it all depends on a vigorous and sustained economic recovery.
"At worst, by 2016 we need to do something," she said.
She conceded her projections might be overly conservative, but even if she's off by $1 million, the city will still require a new revenue source.
Watson and Council members noted the severity of the crisis, and to a person acknowledged "something" had to be done. They also agreed the Council would take the time to look at a host of potential revenue sources.
All but one said they opposed implementing a property tax.
"I'll put my head on the chopping block," said Councilman Larry Carver. "We need a stable revenue stream to sustain the city ... I think all of us need to look at this from the standpoint of where can we cut? The only thing left is services."
Tuesday's meeting was for discussion only. No action was taken.