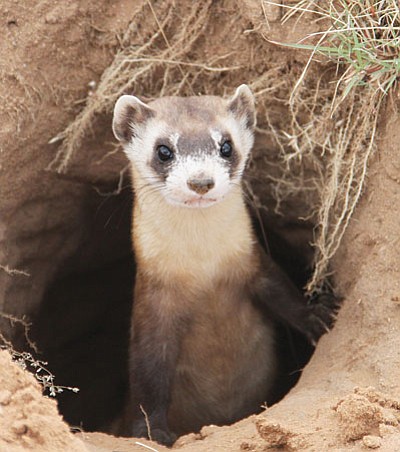 Originally Published: November 13, 2013 6 a.m.
KINGMAN - Once nearly extinct, the black-footed ferret's comeback suffered a small setback this year, according to the Arizona Game and Fish Department.
Game and Fish personnel and dedicated volunteers recently completed the fall spotlighting effort in Aubrey Valley. Spotlighting, the method used to find the nocturnal black-footed ferret, is a critical aspect in monitoring the population.
In September and October, personnel, along with 180 volunteers, captured 57 individual ferrets, and a total of 95 individuals were captured in 2013, which represents the minimum population.
Of the captures, 74 were new. All captured ferrets have an electronic marker inserted under the skin and if that marker is absent, the ferret has never before been documented.
After several years of establishing population records, the 2013 numbers were slightly below last year's record of 123.
"We weren't going to establish records every year," said Jennifer Cordova, supervisor at the reintroduction site. "As the population increases, the ferrets disperse a bit throughout the range. We have found ferrets in areas that weren't on our initial survey routes."
Weather may have also played a factor, especially in March and September.
"And the 95 is a minimum population," Cordova added. "We had an additional 137 ferrets spotted in the spring and fall, but not captured. Because they weren't captured, they aren't included in the overall results."
Cordova explained that spotlighting provides the means to document a minimum population, longevity, range, and health.
If issues such as disease arise, biologists have the ability to address a specific problem quickly.
In just the last 10 years, black-footed ferrets in Aubrey Valley, located just west of Seligman, have reached a population high enough to be considered self-sustaining, meaning no captive-bred ferrets are needed to maintain a population.
"That's a huge leap for an animal that once numbered 18 in the entire world," Cordova said. "To this point, the recovery effort of this animal has been amazing."
Cordova credits the continued support of the public and the Heritage Fund in the recovery of the black-footed ferret. The Heritage Fund provides the financial means for Game and Fish to be the lead agency with no cost to Arizona taxpayers.
For future spotlighting opportunities or to obtain additional information, email azferret@azgfd.gov or call (928) 422-0155.