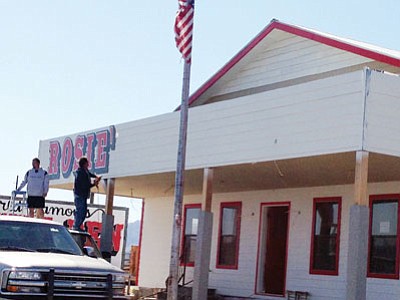 Originally Published: November 18, 2013 6 a.m.
KINGMAN - The restaurant at Rosie's Den on U.S. 93 is almost finished - all it needs is permission from the Mohave County Health Department to open, said Sheila Larson, one of the iconic roadside attraction's managers.
"It's like the old Rosie's, but on steroids. It's twice the size of the old one," Larson said "It's so darn cute in here, I can hardly stand it."
Rosie's Den, located a few miles south of Hoover Dam, has been a major stopping spot on U.S. 93 for tourists since it was built in 1933. Rosie Larson purchased the store in 1983 and spent the next 30 years collecting a cast of characters who cook, sell souvenirs and chat with customers.
The store is a favorite of Nevada Powerball lottery players. Nevada doesn't have a lottery, so residents have to cross the border into Arizona or California to get their tickets.
Rosie's burned to the ground in August 2011 after a faulty circuit breaker started a fire in the basement. The gift shop and several other buildings on the property survived, but the family didn't have fire insurance.
Using donations of money and time from the community, the Larsons put up temporary accommodations and had a new lottery machine delivered.
The family recently finished construction on a new restaurant to replace the one that burned down.
"We are looking so good. It's still got the same old Rosie's character," Larson said. "We couldn't find bar stools and tables to replace the old ones, so we made our own. We've still got the same old management, menu and crew. We added a couple of new staff members, too."
"We won't be serving food until we get the OK from the county, but we will be selling lottery tickets," Larson said.
Click for home delivery with comics, grocery deals, inserts, TV listings, coupons and more