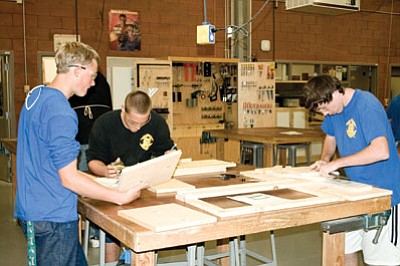 Originally Published: November 20, 2013 6:02 a.m.
KINGMAN - Woodworking students at Kingman High School may soon have the chance to polish their skills with some of the latest precision manufacturing equipment available to the industry.
The Kingman Unified School District Governing Board approved a new cabinet-making Career and Technical Education class for the high school at its last meeting.
The new class depends on the school getting a $50,000 grant from the Western Arizona Vocational Education district to purchase a handful of desktop-sized multi-axis Computer Numerical Control machines, said Calvin Kupser, KHS' woodworking instructor.
Students program the machines with the dimensions of the individual pieces for a project, insert pieces of wood and the machine carves and cuts the wood. Students then assemble the pieces into a finished product, he said.
The school currently has one CNC router machine, which is about the size of a large conference room table and has an accuracy of about 1/100 of an inch, Kupser said. But only one student at a time can use the machine and CNC machines are fast becoming the industry standard.
Many companies use these machines to produce a consistent, finished product whether it is in woodworking and cabinets or metal and parts fabrication, he said.
Preparation is the whole point of Career and Technical Education classes at the high schools, said Amy West, the program coordinator for the school district.
"This is more about their future than just learning woodworking skills," West said.
"Things have changed since we went to school," she said. "Students have to start looking at what they want to do with the rest of their lives now, while they're in high school."
Some students may decide not to go to college or they may not have the funds to do so, West said. They have to figure out what they're going to do after high school before they get there. The CTE programs can prepare students for what comes next, whether it's going to college for a bachelor's degree in nursing or becoming an auto mechanic. Keeping up with new industry equipment is part of that, she said.
"We're trying to prepare them for jobs that don't exist yet," West said. "They have to be able to evolve."
Kupser agreed.
"As long as they have the basics they can work anywhere. It may be a different type of CNC machine used to cut a different material, but the most they would have to learn is a new type of software," he said.
Students in the new class will learn how to read blueprints and how to design a project using Computer Assisted Machining/Computer Assisted Design software and then how to program the CNC machines with the blueprints they created in the CAM/CAD software.
The class is targeted at sophomores, juniors and seniors and counts as a half of an elective credit.
Students don't even have to be taking woodworking classes to take the new cabinet-making class, Kupser said.
"The CNC machines take a lot of the fear out of woodworking projects," he said.
Students don't have to get close to the blades that cut the wood. The machine does it for them, Kupser said. At the same time, the student gets to make something that he or she can take home and show off.
KHS offers three levels of woodworking classes that teach basic safety around both hand and power tools and how to use math to create a project, Kupser said. Students who take all three classes have the option of taking a fourth woodworking class during their senior year as a math credit.
Those fourth year students also have to purchase supplies to build a personal project, he said. Past projects have included a set of six-foot tall bookshelves, cedar blanket chests, entertainment centers, gun cabinets and a coffee table made out of reclaimed wood.
One student built an entire bedroom set, West said.
The students who complete these programs are able to work in a small shop, which may not have state-of-the-art equipment, and in larger shops, such as American Woodmark, that do have CNC equipment, she said.
Kupser agreed.
"I ran into a former student of mine and his dad the other day. He's a year out of high school and working as a quality control inspector for American Woodmark," he said. "He had the skills to jump over all of those other guys in the shop."