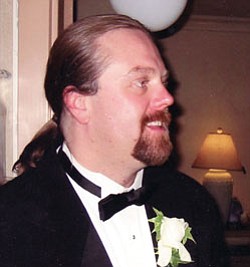 Originally Published: November 23, 2013 10:24 a.m.
KINGMAN - A man shot and killed by a Mohave County Sheriff's deputy in August did not have drugs or alcohol in his system and was shot seven times, not four times as was originally reported, according to a new report on the incident.
According to Bullhead City Police Department spokeswoman Emily Fromelt, Deputy Jace Reif fired seven rounds into Blake Barbour's body on the morning of Aug. 16. The autopsy report states Barbour, 43, was shot in the chest, abdomen and his arms and legs.
According to Bullhead City Police investigators, who were called into investigate the shooting to avoid the appearance of a conflict of interest, Reif, 27, responded to a home on Packard Avenue in response to a domestic violence call that morning.
"The suspect's mother had reported her son was acting crazy," according to the report. "She reported that she had tried to call 911 earlier, but her son held her by the neck so she couldn't make the phone call."
Susan Barbour does not dispute her son was behaving oddly that day, but she vehemently disagrees with other aspects of the report.
According to Fromelt, Blake Barbour confronted Reif in the backyard and was "extremely uncooperative" and refused to comply with the deputy's commands.
The report states Barbour approached the deputy in an aggressive manner and was hit by a taser several times.
"The taser had no effect on Barbour, who continued to fight with the deputy and threw a patio chair at him," said Fromelt in an email.
Susan Barbour said her son fell to the ground after being tased, but managed to get back up.
During the fight, Reif pulled out his baton in an effort to gain control of the situation, but Barbour took it away.
At that point, Reif reportedly backed away from Barbour, drew his weapon, and ordered him to the ground.
Barbour, according to Bullhead City investigators, failed to comply and "advanced on Deputy Reif." At that point, he was shot multiple times.
Barbour was pronounced dead at Kingman Regional Medical Center later that morning.
The report states Barbour's mother witnessed her son fighting with the deputy and advancing toward him.
Susan Barbour, however, said there are glaring mistakes in the report outlining her son's death.
Susan Barbour witnessed the entire ordeal. She said she never saw her son throw a lawn chair at the deputy and she said her son never advanced on the deputy, but that the deputy advanced on her son.
"This is just a continued nightmare," she said. "I thought he was shot four times."
Susan Barbour admits her son snatched the deputy's baton, but said he never moved to strike him with it.
"He held it up over his head," she said. "He didn't want to get hit anymore."
She also admits her son was angry after being tased, and that she told him to stay down when he fell to the ground afterward.
"The deputy didn't even try to talk to him when he got here," she said. "He ordered him to get down. They're twisting my words."
Susan Barbour remains grief-stricken.
"My son was killed for nothing," she said. "The deputy's intent was to kill him."
She is grateful the toxicology examination revealed her son was not under the influence of drugs or alcohol.
"A lot of people commented on Blake. They said he was on drugs and that really hurt me, so I'm glad they will know they were wrong," she said.
Instead, she said her son was stricken with meningitis a few months earlier and the disease might have been the cause of his bizarre behavior.
The disease affects the brain's membranes and has been known to cause violent temper tantrums and aggression in many cases, particularly in adults.
"He was never the same after that," said Susan Barbour.
While the incident occurred shortly after sunrise, in an interview held a couple of days after the shooting, Susan Barbour said her son woke early that morning to work on a car when his odd behavior began.
For some reason, he jumped into an above-ground swimming pool on the property fully clothed and had stripped off the wet garments when Reif arrived about 25 minutes after she called 911.
"That couldn't have helped the situation," said Susan Barbour at the time. "He was naked and that had to seem very strange to the deputy."
When she met Reif at the gate that morning, she said she told the deputy her son was acting strangely. She was taken aback when Reif told her he had given her son a ride just the day before.
"He said Blake said some crazy things on Thursday," she said in August.
Sheriff Tom Sheahan was out of town and unavailable for comment, said Mohave County Sheriff's Office spokeswoman Trish Carter.
Jace Zack of the Mohave County Attorney's Office, to whom the Bullhead City Police Department forwarded its report, said the office likely wouldn't play a role in the incident.
"I have not been told it is coming for review," said Zack in an email. "In any event, such cases involving a MCSO deputy are most always sent to another county attorney's office for review for criminal charges."
Susan Barbour has retained an attorney and is contemplating filing a wrongful death lawsuit. No decision has been made, she said, as her attorney is in the process of gathering information.
She said she's undergoing counseling to help come to terms with her loss.
"He lived here in this home," she said. "I see his things and I feel his presence every day. He was my only child. He's dead and for what?
"I feel like I invited evil into my yard that day."