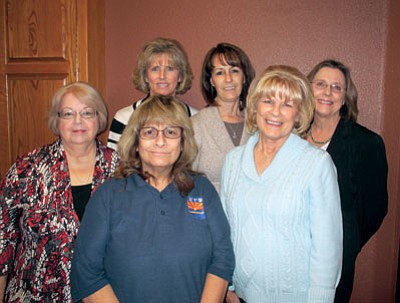 Originally Published: November 24, 2013 6 a.m.
KINGMAN - Nominations are now open for the 2014 Women Making History awards. This year's theme is Celebrating Women of Character, Courage and Commitment.
Nomination forms are available at the Mohave County Library in Kingman, the Mohave Museum of History and Arts, and the Mohave Community College Student Center. Forms are online at www.kingmanwomenmakinghistory.com.
Submit the form and any additional material to support the nomination either online or mail to: Women Making History Committee, c/o Desert de Oro Foods, Inc., P.O. Box 4179, Kingman, AZ 86402-4179.
Nominatation categories include education, professions, the arts, business, religion, homemaking, volunteerism, pioneering, public service (including law enforcement, politics, fire fighting, state/county/city workers, military, etc.), or a category not specified that describes your nominee. To qualify for this honor, a nominee must have been a resident of Kingman for at least 10 years.
The deadline for submitting a nomination is 5 p.m. Jan. 17. The awards ceremony is scheduled for 2 p.m. March 2 in the Mohave Museum of History and Arts.