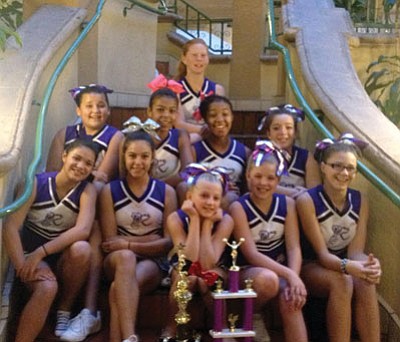 Originally Published: November 29, 2013 5:59 a.m.
KINGMAN - A group of local cheerleaders is hoping residents will show their spirit and help them raise more than $20,000 to make it to the national Pop Warner Little Scholars National Championships in Orlando, Fla.
The Kingman High Desert Rattlers Pee Wee Pop Warner Dance and Cheer team danced their way into first place at the Wescon championships on Nov. 24 in Long Beach, Calif.
They're the first team from the Kingman area to do so, said Jennifer Rapp, president of the High Desert Rattlers.
"We were all a little shell-shocked when we found out," Rapp said.
It had been a long day of competition and waiting for the results, she said. Two of the girls had fallen asleep and had to be woken up.
It finally clicked that they had won when the awards crew placed Mickey Mouse ears on the cheer coaches' heads.
"The girls all started crying," Rapp said.
But they still couldn't believe it, she said.
"They asked me on the way home, 'Are we really going to Florida?'" Rapp said. "I told them 'Yes, you're going. I've already arranged for the plane tickets.'"
Now the next trick is raising more than $20,000 to pay for airfare, hotels and food for 10 girls and the chaperons before Dec. 8.
The national championships start on Dec 6 and run through Dec. 14 at the ESPN Wide World of Sports Complex in Orlando.
The Rattlers plan to fly out on Dec. 8. They'll perform on Dec. 10 and participate in a parade on Dec. 11 before returning home on Dec. 12. The competition will be streamed live on ESPN's website.
ESPN hasn't listed what time or date the competition will be broadcast on TV yet.
The girls are already working hard to raise the money to cover the cost, Rapp said. A couple of days after they won at Wescon, they sent out a hundred letters to local businesses asking for donations.
The cheer and dance troupe will also be performing for donations from 1 to 4 p.m. Saturday and Sunday in front of Big 5 Sporting Goods, 3320 N. Stockton Hill Road.
They're also working on a line up of car washes, bake sales and other fundraisers.
Residents interested in donating to the Rattlers can send a check to: High Desert Rattlers, 1308 Stockton Hill Road, Box A114, Kingman, AZ 86401 or call Rapp at 9928) 279-0407.