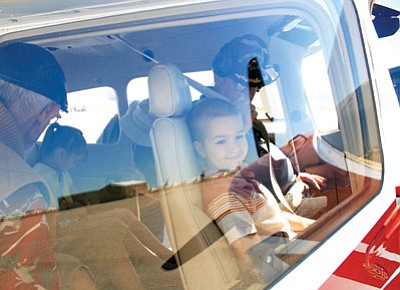 Originally Published: October 3, 2013 6 a.m.
KINGMAN - Boys and girls ages 8-17 years are invited to take off into the wild blue yonder with local pilots this weekend as part of the annual Young Eagles event.
Members of the Experimental Aircraft Association Chapter 765 will teach children about aviation and offer free airplane rides at 8 a.m. Saturday at 4650 Flight Line Drive at the Kingman Airport. A parent or guardian must attend to sign a permission slip.
"The Experimental Aircraft Association has noticed over the past five or six decades that there is a decreasing number of people getting their pilot licenses and flying airplanes," said David Amspoker, spokesman for the chapter. "A big part of that is the cost, but another part is that kids are playing more video games than doing the activities shown in them."
The pilots will gather the participants around an airplane and explain gravity, thrust and drag, as well as how the aircraft turns and raises and lowers its altitude. Participants will then get a chance to ride in one of five airplanes that will take them on 15-minute rides above Kingman. Some children will be allowed to man the controls, with pilot supervision.
Chapter 765 has given more than 700 free flights to the children of Mohave County since the Young Eagles program began, said Amspoker. The fuel, which costs $6 a gallon and takes about 100 gallons for the event, is underwritten with donations by the Kingman Regional Medical Center Foundation, Chris' Auto Body, Air-Zona Aircraft Services, Kingman Transportation Service and Mother Road Harley Davidson.
Response from participants and their parents from previous events has been positive, said Amspoker. Last year, one boy's parent called him to say the youngster loved the experience and, after later viewing F-22 Raptors flying at Nellis Air Force Base in Nevada, has decided he wants to join the Air Force and fly the birds.
"Another parent is a pharmacy technician where I get my medicine and told me we flew their son in an airplane and he thought it was 'the best weekend ever,'" said Amspoker. "Some of the kids are scared initially and some are scared until they get back on the ground. But the vast majority of them want to go again."
The event also includes a visit by a glider, a medical helicopter and students from Grand Canyon University who will be filming a video.
Click for home delivery with comics, grocery deals, inserts, TV listings, coupons and more