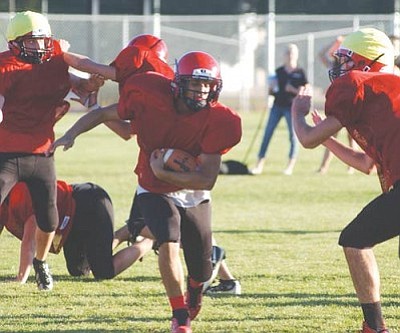 Originally Published: October 4, 2013 6 a.m.
KINGMAN - The Lee Williams football team has demonstrated they can start with urgency, but it hasn't been fully determined if they can sustain an early drive.
Take last Friday's 46-6 home loss to Williams High School. They were up 6-0 after the first quarter following an eight-minute drive that resulted in sophomore quarterback Braxton Burgess busting through a gap at the goal line for a rushing touchdown.
By halftime, they were down 13-6.
"We went into halftime with the momentum against us, and we just couldn't regain it. We can't let that happen," Volunteers head coach Eugene Kramer said toward the end of practice Wednesday afternoon.
LWHS (1-4) had more than 300 rushing yards last Friday against Williams. They just couldn't produce when it came to putting points on the scoreboard.
They know they have to utilize every possession against Camp Verde High School, tonight's 7 p.m. home game.
"They run the ball very well," Kramer said of Camp Verde. "We've got to stop the ground game and force them to throw."
Lee Williams is focused on taking advantage of every carry. More importantly, they want those plays to generate actual points (like the effort they put forth at Greyhills Academy two weeks ago).
"I think we can keep running the ball," Kramer said. "We did some fine tuning, and I think we're ready to rock and roll."
More like this story