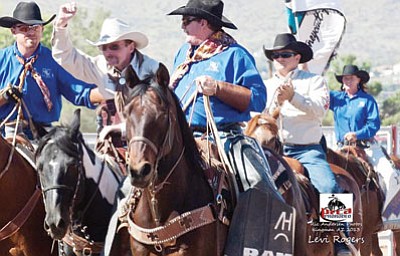 Originally Published: October 6, 2013 6 a.m.
KINGMAN - Levi Rogers' dream of riding a horse in the grand entry of the Andy Devine Days PRCA Rodeo finally came true this year.
For Rogers, 43, that dream has been as difficult to lasso as a wild mustang sprinting across the desert. The former bronco-busting, bull-riding cowboy had been a participant in the rodeo since it began 29 years ago until he was seriously injured in a March 2007 automobile accident that left him unable to use his arms and legs. Rodeo took a back seat as he struggled to deal with his physical limitations.
But the dream came to life again last year when Rogers began equine-assisted therapeutic riding at Kingman's Healing Hooves, a nonprofit program designed to help children and adults with disabilities. For the first time since his accident, Rogers was able to mount and ride a horse with the use of a ramp and hoist.
At that time, he gave voice to his dream of eventually riding in the Andy Devine Days parade or rodeo again.
Rogers, a member of the Kingsmen, also began researching the type of saddle he would need to accomplish such a feat. When he found the high-backed saddle he was looking for, he took the idea and pictures to Chas Barker, another Kingsmen who runs a leather shop out of his home, and asked if Barker could make something for him.
The Kingsmen is a nonprofit organization of Kingman-area businessmen who sponsor the annual rodeo.
Barker gladly agreed, explaining he took Rogers' original saddle, stripped it to the wooden base and built it back up with a 24-inch fiberglass back reinforced with leather.
He also made an 8-inch-wide strap that goes across Rogers' chest like a wide seatbelt to hold him up. The creation took about 90 hours of work, said Barker, and the labor was free. The only cost to Rogers was $400 in supplies used to construct the saddle.
"I'd never done anything like this before," said Barker. "I was really honored to be asked to make the saddle, and I was very proud that what I did made his dream come true.
"Levi was a rodeo cowboy who rode bulls, and the accident took that away from him. He had almost given up on being in the rodeo again. When he rode in during the grand entry, there wasn't a dry eye in the house. He got a standing ovation. It was the best two minutes of my life."
Rogers rode in the grand entry, surrounded by cowboys there to support him and make sure he stayed in the saddle, both days of the rodeo last weekend. A crowd of about 4,000 watched, applauding wildly as he made his entrance.
Kurtis Manley, another member of the Kingsmen, said the atmosphere was emotional both days as the crowd watched Rogers ride Tux into the arena.
"I did not know Levi when he doing rodeo, but through the Kingsmen I knew how much he missed it," said Manley. "But when he rode into the arena and I saw the smile on his face, I am not ashamed to admit that I teared up. I was not alone, though. There were a lot of tears and cheering that day."
The experience was emotional for Rogers as well.
Rogers said his participation in the grand entry is only the beginning of his return to the rodeo circuit. Already, he's been invited to ride in the Silver Spurs rodeo in Yuma during February, and he hopes to visit a lot more - all on horseback.
"I've rodeoed and cowboyed all my life, but the accident in 2007 changed everything," said Rogers. "I felt very excited when I realized I'd be able to ride in the rodeo again. And I was speechless when I saw the saddle Chas made because I was in awe of the freedom it would give me to ride.
"There's no way I'll ever be able to repay him for what he's done for me."
Click for home delivery with comics, grocery deals, inserts, TV listings, coupons and more