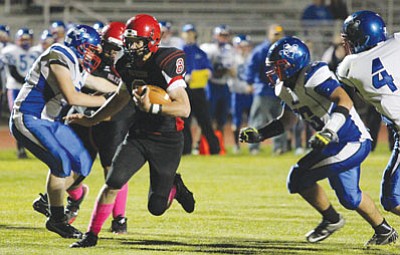 Originally Published: October 11, 2013 5:59 a.m.
KINGMAN - Lee Williams football head coach Eugene Kramer constantly reminds his players to make the most of time of possession.
The Volunteers (1-5) have demonstrated they can start strong and also capitalize toward the final stretch. The problem is, they still have been unable to put forth the entire package from start to finish. They feel that's what must be done 7 p.m. Saturday at Joy Christian High School in Glendale.
"We've got to play all four quarters very well. We know that there's a good football program we're going up against. Very well-coached, very well-disciplined," Kramer said of Joy Christian. "We've got to protect the ball."
Joy Christian (5-1, outscoring its opponents 300-93 this season) runs a spread offense. They strive to deceive opposing teams during every possession and strike once that happens.
Lee Williams will initially focus on throwing the football. Kramer wants to start breaking down Joy Christian from the outside in. He hopes that if sophomore quarterback Braxton Burgess can put the Eagles' secondary on its heels, JCHS' defensive front will feel the pressure soon after.
That'd be best-case scenario for the Volunteers' running game.
Coming off of 100-plus yard performances last Friday against Camp Verde, sophomore running backs Jason Ruiz and Dallas Morgan are expected to anchor the bulk of Lee Williams' offense.
Kramer wants to continue using Ruiz and Morgan as a one-two punch. Ruiz can bust through the line of scrimmage with speed and agility, while Morgan's 6-foot-2 frame gives LWHS physical size of strength in the backfield.
Kramer wants them to utilize every carry and drain time off the clock.
"We've got to get some completions early and soften up that defensive line, make them second-guess what we're doing," Kramer said.
"We need to win the war in the trenches on both offense and defense. We need to control the line of scrimmage. When we can start doing that on a consistent basis, we'll (have) success."