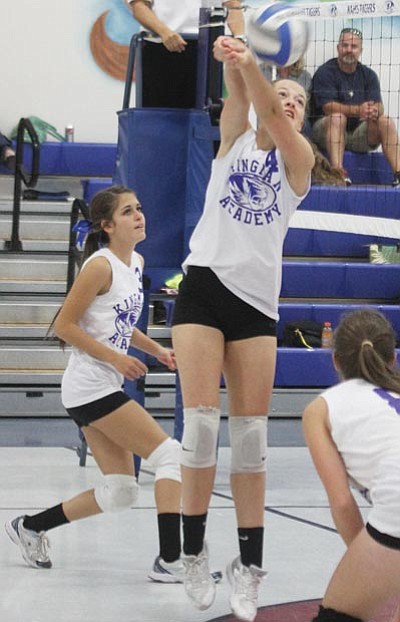 Originally Published: October 13, 2013 6 a.m.
KINGMAN - Fundamentals remain the Kingman Academy High School volleyball team's biggest struggle, and the Lady Tigers' straight-set home loss (10-25, 16-25, 7-25) to Horizon Honors High School Friday night was another reminder of that.
"I've never seen this before. We're playing well. Then all of a sudden, we just fall apart. I'm stumped right now," said Kingman Academy head coach Bryant Morrison.
Kingman Academy (3-8 and currently on a seven-match losing streak) had 16 team errors on the night. Kill attempts fell outside the striking point. Volleyballs hit the net, went far out into the distance or landed out to the side.
The defense was also stagnant. Whenever they had an incoming ball coming their way, they didn't move their feet fast enough. There were a couple of instances where players just stood there, feet planted and waiting for something to happen. The ball just fell to the floor untouched. Those situations worry Morrison the most.
"Communication needs to improve," Morrison said.
The Lady Tigers started playing with more common sense in the second set and were up 16-13. They recognized when to let the ball go past them, where and how hard they'd land a quick kill at the net.
That momentum became short-lived when Horizon Honors responded with seven straight points. They constantly fired point-blank shots at Kingman Academy.
Toward the end of the third set, poor timing and footwork were factors once again.
KAHS sophomore outside hitter Reagan Haynes tallied a team high of five kills. Senior libero Shealyn Neshem had six digs, while sophomore setter Kiersten Kinsey dished out 11 assists.
The Lady Tigers hope to break free of their current funk during their next two home matches Monday night against River Valley and Tuesday night versus Tempe Prep. Both start at 6 p.m.
"You don't just learn volleyball in two months. It's a process," Morrison said.
More like this story