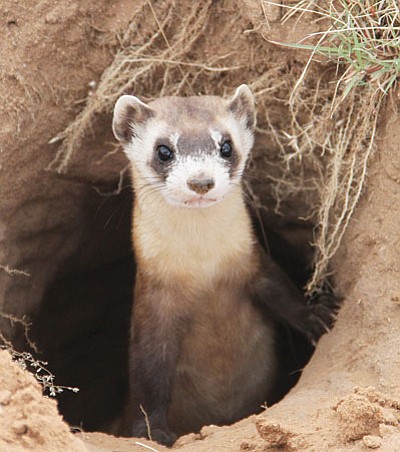 Originally Published: October 14, 2013 6 a.m.
Some very dedicated wildlife professionals and volunteers tried their hand at the Arizona equivalent of herding cats recently as they worked to convince some small and very feisty ferrets to leave their crates and go down a burrow to freedom.
This was not as simple as it might seem.
The Arizona Game and Fish Department, with the cooperation of the U.S. Fish and Wildlife Service, released 34 black-footed ferrets at a reintroduction site in Aubrey Valley north of Seligman last Wednesday. About 20 people, many of them AZGFD personnel but also USFWS and other professionals and volunteers, joined the effort.
The reintroduction site is located on a grassland full of prairie dog colonies, which provide the ferrets' main source of food and shelter.
Black-footed ferrets are one of three species of ferrets in the world and North America's only native species of ferret. They were once believed to be extinct due to the near eradication of prairie dogs, their food source, in the late 1800s and early 1900s. A small population was discovered in Wyoming in 1981. The animals have been bred in captivity ever since at the U.S. Fish and Wildlife Service's National Black-footed Ferret Conservation Center in Colorado, which provided the ferrets for the release in Aubrey Valley, as well as other locations.
There are currently 19 black-footed ferret relocation sites that are home to about 1,000 wild-born ferrets throughout North America. There are four self-sustaining ferret populations, and that includes Arizona's sole ferret site at Aubrey Valley, which is located about an hour's drive east of Kingman.
Ferrets were first released there in 1996. AZGFD conducts nighttime spotlighting surveys twice a year to monitor the population, which is slowly expanding.
It is classified as experimental and non-essential, allowing for normal land use activities such as ranching.
The Ferret Conservation Center had some surplus animals this year and Mike Lockhart, a retired USFWS employee, drove the animals in crates from Colorado to Arizona to supplement the population here.
They have been preconditioned for life in the wild, but it is still difficult for a once-captive animal to survive in the wild and not all of them are expected to make it.
Enough do, however, for the releases to be successful.
A procession of vehicles drove down ranch roads at the reintroduction area. Then prairie dog burrows were located and the ferrets released one individual or family unit at a time per site.
Then the vehicles would proceed further down the road, another prairie dog colony would be located, and another ferret or family would be released.
It sounds simple on paper, but the reality was something more complicated. Ferrets are small carnivores with sharp teeth, and these did not seem to want to leave the familiarity of their crates and tubes.
Chittering loudly in protest, the ferrets snapped at any fingers that came too close.
Getting them out of the crate usually consisted of taking the black tubing the ferret was hiding in and sticking it inside a burrow entrance until the ferret finally went down the hole.
Even then, the curious ferrets would often come back to look at the humans again before heading down for a longer time. Pieces of prairie dog were left in the burrow to provide a snack as the ferrets acclimated.
People who are interested in learning more about black-footed ferrets or possibly even seeing one in the wild are encouraged to contact the AZGFD. There is an all-night spotlighting effort coming up this week, from Thursday to Saturday, and more will occur next year.
Contact azferret@azgfd.gov for more information.
Click for home delivery with comics, grocery deals, inserts, TV listings, coupons and more