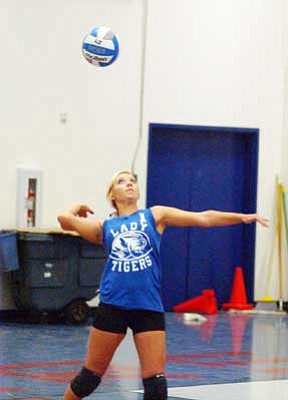 Originally Published: October 15, 2013 12:22 p.m.
KINGMAN - Already dealing with concerns related to youth and fundamental play, eight service errors only made the Kingman Academy volleyball team's four-set home loss (25-20, 22-25, 19-25, 14-25) against River Valley High School Monday night even more frustrating.
"I don't understand why we miss them. It's very crucial for us to get serves over," said KAHS sophomore setter Kiersten Kinsey, who finished with 13 assists. "I think it's just the pressure and anxiety. If we just practice, we can surely get better at them."
In the first set, Kingman Academy reached their spots in a timely manner. They slammed the ball into Dust Devils territory.
The defense moved their feet more efficiently and also let bad spikes go out of bounds. Kingman Academy also took advantage of the confusion River Valley displayed on their end of the court. Being unaware of where the ball would drop, that was one significant way RVHS surrendered points.
"The first game is how I know they can play," Kingman Academy head coach Bryant Morrison said of his squad.
Everything changed from there. Poor timing and footwork again gave Kingman Academy problems as the night progressed. They struggled getting the ball over the net, and the service errors only made it more obvious. Whether off a deflection or just watching Kingman Academy be late to the contact point, River Valley (2-0 against KAHS this season, 2-13 overall) took every point they could.
While the Lady Tigers' frustrations still linger, Morrison felt taking the opening set itself was a step forward.
KAHS senior libero Shealyn Neshem had eight digs, while sophomore outside hitters Reagan Haynes and Destinee Haren-Ralph each had seven kills.
"It's going to spread out, which I like," Morrison said of the collective effort. "We're building our team to be good all-around. They can see what they need to work on."
Kingman Academy (3-9, now on an eight-match losing streak) wants to build on that first set heading into their home match against Tempe Prep at 6 p.m. tonight.