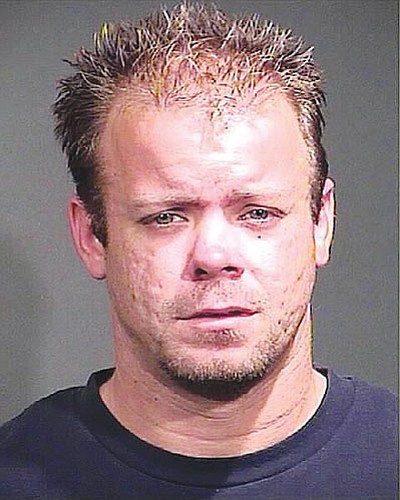 Originally Published: October 16, 2013 6 a.m.
KINGMAN - An anonymous tip received Monday led Mohave County Sheriff's deputies and a Kingman Police detective to Shawn Joseph Woodfin, one of eight people who escaped a multi-agency dragnet on Aug. 16.
Woodfin was one of 26 residents targeted in Operation Street Sweeper following a months-long undercover operation involving local, state and federal law enforcement agencies.
Woodfin, 36, was at a home in the 3100 block of Saddletree Court shortly after 11 a.m. when deputies and the detective responded.
Several people were at the home and deputies took Woodfin into custody without incident.
In addition to a felony warrant issued by a federal judge for disorderly conduct with a weapon, Woodfin also had three felony warrants for his arrest issued by Mohave County Superior Court for escape in the second degree and two warrants for failure to appear.
Also arrested at the home was Cheryl Lynne Calibo, 36, also of Kingman, on a felony warrant for possession of dangerous drugs issued by Kingman Justice Court.
Calibo was taken into custody without incident.
Kingman Police officers earlier this month arrested fugitive Michael Kelly, who like Woodfin avoided apprehension during the August raid.
He was located at a convenience store on Stockton Hill Road. Amanda Dutton has also been arrested, leaving five fugitives still on the lam.
They are: Joshua Gunter, Warren Huffman, Abigail Miller, Ronnie Sinclair, and Jason Terpstra.
All of them are from the greater Kingman area with the exception of Terpstra, who is from the Seligman area.