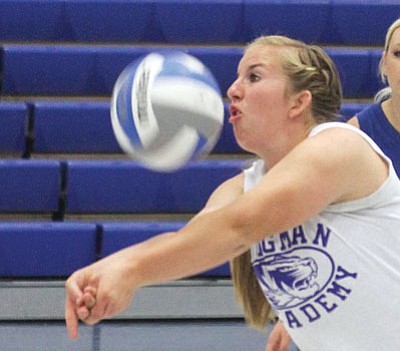 Originally Published: October 16, 2013 12:19 p.m.
KINGMAN - Kingman Academy volleyball head coach Bryant Morrison wants rallies, and lots of them. He wants to keep the ball moving in play. He feels his young squad can build at least some momentum that way.
"I told them, 'Hey, I'm fine with that,'" Morrison said.
That didn't happen in Tuesday night's straight-set home loss (8-25, 9-25, 9-25) to Tempe Prep and it's becoming a difficult, fundamentally challenging season for the Lady Tigers.
"It's taken a toll. Losing's hard," Morrison said.
In the first set, a pair of service aces (one by junior outside hitter Kylie Tomlinson, the second by sophomore hitter Kiersten Kinsey) gave the Lady Tigers a jump start. They just couldn't keep the motor running.
Kill attempts hit the net or flew out. Serves either hit the net or went out of bounds. The defense was unable to keep the Knights' short game at bay. TPHS won numerous points from mid-court.
The severe lack of production continued. Kingman Academy couldn't land a big kill, and much of their movement came from defending their end.
Senior libero Shealyn Neshem had 10 digs. Sophomore outside hitter Destinee Haren-Ralph had three kills. Sophomore outside hitter Reagan Haynes and senior outside hitter Rebekah Russell each had a kill.
Kingman Academy finished with 19 attack errors.
"We have a hard time keeping our momentum," said Tomlinson, who also added one kill. "We need to just get up and smash, instead of being worried about hitting it out or hitting into the net."
The Lady Tigers (3-10, with their losing streak now up to nine matches) will play at Paradise Honors High School in Surprise at 5 p.m. Thursday.
Lady Bulldogs win one, lose one
KINGMAN - The AIA Div. II state playoffs look a little farther away for KHS after the Lady Bulldogs let one get away from them in a 25-21, 26-24, 22-25, 25-18 loss to Goldwater Tuesday in Phoenix.
"I'm so frustrated about the match still," KHS coach Salina Fogg said in an email Wednesday. "We were well equipped to handle Goldwater. We just didn't put a couple of things together."
Those missing components for KHS (9-5) were stringing points in a row together and missing serves during critical moments.
The loss to Goldwater (8-5) has the Lady Bulldogs sitting in the No. 21 spot as they attempt to land a playoff spot and perhaps wishful they would have kept doing what was successful for them.
"Goldwater was tough in their coverage, and when we moved the ball around the attack line we were successful," Fogg said. "The team knew that winning was a must for a state opportunity and they played pretty tight and tried to force things."
KHS entered the match coming off a sweep of Prescott Bradshaw Mountain Oct. 10 in Kingman.
"Bradshaw was a much better team from earlier this season when we faced them in a tournament," Fogg said. "We moved the ball around and had a good passing night."
The Lady Bulldogs face Sunrise Mountain (9-4) at 6 p.m. Oct. 22 in Peoria.
"We'll really work on coverage and plays," Fogg said about having more than a week between matches. "We'll have to if we want to be successful."