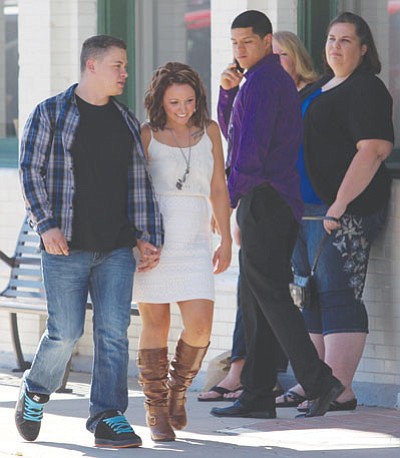 Originally Published: October 16, 2013 6:02 a.m.
KINGMAN - Kingman and some of its residents will play starring roles in a short film on the big screen at the Laughlin International Film Festival Saturday.
"Dream Date," a movie filmed in Kingman using residents of Kingman and Mohave County, will be showing at the Second Annual Laughlin International Film Festival this weekend. The movie starts at 5:15 p.m. Saturday at the Stadium 9 Cinema at the Horizon Outlet Center, 1955 S. Casino Drive.
This is the first time the film will be seen by the public, said producer Tina Lopez.
"We're excited to see it on the big screen," she said.
The movie is a love story. A young man breaks up with his girlfriend and falls in love with a girl he meets at a local coffee shop. The two build a life together in the young woman's dreams. The 25-minute movie has a surprise ending.
Keep an eye out for some familiar locations and faces. The movie was filmed in downtown Kingman at the Cellar Door wine bar and the Beale Street Brews coffee house.
The movie also features two Kingman High School graduates, Isaac Lopez and Angela Williams.
More than 45 residents were picked to play the part of extras in the film, Lopez said, and filming took place at more than 10 local businesses and parks.
The movie took five days to film, she said.
The outpouring of help from residents and businesses was phenomenal, Lopez said.
"We really can't thank the local businesses enough, especially Beale Street Brews and the Cellar Door, who opened their places and stayed with us from 8 a.m. Sunday to 3 a.m. the next day," she said. "Siren's was also great. She stayed open the whole time so extras had a place to stay during filming.
"We will definitely come back and film here again," Lopez said. "In fact, the director (Brian Brown) is already working on a feature script set in the downtown area."
A total of 85 movies will be shown over four days - Thursday, Friday, Saturday and Sunday - in three of Stadium 9's theaters.
The festival's red carpet rolls out at 7 p.m. Thursday at the Stadium 9 Cinema with the first movie, "Red Wing," starting at 8 p.m. in the second theater.
"Dream Date" will also have its own red carpet review a few minutes before the film screens on Saturday.
Movies continue at 11 a.m. Friday and end at around 9:30 p.m. Sunday.
For more information on the festival, movie times and to purchase tickets, visit laughlinfilmfestival.com.
Lopez said the film crew also plans to screen the movie at other film festivals across the country and will present a special screening in Kingman at Beale Street Brews some time in November.