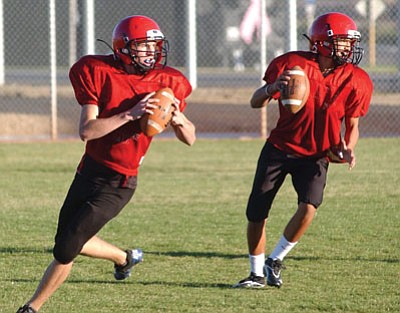 Originally Published: October 18, 2013 6 a.m.
KINGMAN - It wouldn't be wrong to think that momentum is the last thing that the Lee Williams High football team took from last week's 59-0 loss to Glendale Joy Christian. But that is what the Volunteers are bringing when they face off with the Pinon Eagles at 7 p.m. today at home.
LWHS (1-6) trailed 59-0 with less than two minutes into the third quarter after No. 5-ranked Joy Christian (6-1) went for a 2-point conversion and committed one of its six personal fouls in the game. Despite Joy Christian keeping its starters in for most of the game, the Volunteers hung in there.
"After that, our kids played with enthusiasm and correct technique, finally," LWHS coach Eugene Kramer said. "The defense stuck it to them and the offense started driving. Our kids learned that night they belong in varsity football. Now we're looking to take that next step."
If today's game goes according to the Volunteers' plan, that is going to mean the team's second victory in the school's short history. Pinon (1-5) comes into the contest after falling to Tuba City 57-14 last week.
"We're ready for a win," Kramer said. "The kids are eager and believe we can win."
Little is known about Pinon other than its win-loss record and scores from the Eagles' previous games. Kramer was unable to get film on the Eagles, but he did hear from Tuba City.
"I hear they like to run and stay with it as long as they can," the coach said. "This just might be the best week not to get film. Now we can worry only about us and not what we see on film. As coaches, we can focus on being more fundamentally sound."
There will be more than football happening at the game. The LWHS Volunteer Booster Club, Kingman Area Chamber of Commerce and KRMC will sponsor a Pink Glove Event. At halftime, the Volunteer Spirit Line is going to lead the crowd in Pink Glove Dance that will be recorded and entered into a nationwide contest. Additionally, a raffle will be conducted to raise money for the local cancer care center.