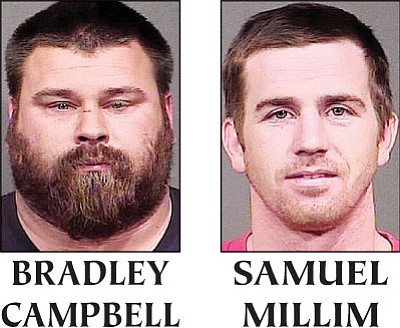 Originally Published: October 20, 2013 6 a.m.
CHLORIDE - Two Mohave County men were arrested Wednesday and charged with multiple theft-related counts after they allegedly burglarized a Chloride mining business three times in one week. One of them reportedly sold some of the stolen items to a Kingman recycling center.
Bradley Wesley Campbell, 35, of White Hills and Samuel Robert Millim, 26, of Dolan Springs were taken into custody after deputies reportedly found 20 lead plates and a sheet of stainless steel in the cargo area of an SUV Campbell was driving south on Old Boulder Highway.
The men were taken into custody sometime after 7:30 p.m. and the victim identified the items as his.
Mohave County Sheriff's deputies learned the men had left the business in the 8000 block of Old Boulder Highway and pulled over Campbell based on a description of his vehicle. They were taken into custody and each was charged with felony third-degree burglary.
The victim told deputies that thieves targeted his business on Monday and Tuesday when they took a number of copper-lead anodes. Those items, according to sheriff's office spokeswoman Trish Carter, were recovered at Campbell's residence.
The investigation reportedly determined that Millim sold some of the items to a Kingman recycling center on Wednesday.
Both were also charged with two felony counts of theft and two of burglary. Millim was also charged with felony trafficking in stolen property. The value of the plates was roughly $5,000.