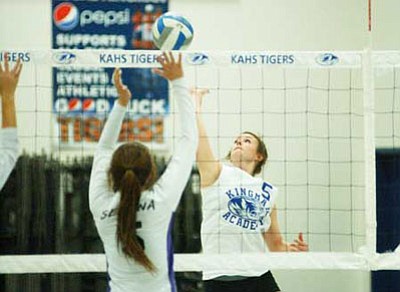 Originally Published: October 27, 2013 6 a.m.
KINGMAN - It's not how you start a race, it's how you finish it. It can leave more of a lasting impression.
That's something the Kingman Academy volleyball team will keep in perspective heading into the final stretch. Although they lost their home finale to Sedona Red Rock in straight sets (9-25, 11-25, 18-25) Thursday, they kept the margin for error close for much the third set.
The Lady Tigers garnered momentum at that point, down 16-14. They played aggressively at the net and were efficient in moving the ball.
"We were happy to get that close," said KAHS senior middle blocker Alex Van Shijndel, one of three seniors.
However, their youth and inexperience caught up with them again.
At this present moment, it's perfectly valid to argue that it was the deterrent.
But when it comes to the long-term picture, the third set was meaningful.
Having already been regularly exposed to the action on the court, Kingman Academy's five sophomores (representing half of this season's roster) provide a big security blanket heading into the next couple years.
"They're going to be a really good team, once they get their hitting down," Lady Tigers senior libero Shealyn Neshem said.
Added Van Shijndel: "They're coming a long way."
The Lady Tigers lost to Bourgade Catholic Friday, 3-0, and finish the season at 6 p.m. Tuesday at Yuma Catholic.