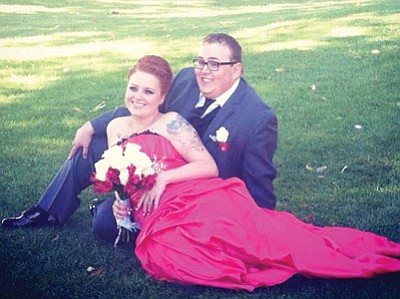 Originally Published: October 27, 2013 6 a.m.
Alex DeWitt, formerly of Kingman, and Leevi Sparks were married Saturday, Oct. 5, 2013, at the Double Tree Hotel in Grand Junction. Alex is the daughter of Becki DeWitt and was given in marriage by her brother, Andrew DeWitt. She is employed at the Grand Junction Regional Center. Leevi is employed at Press One Customer Care and is the son of LaMar Sparks and Tina Brown.
The matron of honor was Janelle Denning (friend), and the bridesmaids were Sarah Bernard (cousin), Brooke Curwick (sister), Pattie Ammon (friend), Tangi Stock (friend), Amanda Martinez (friend), Crystal Bartelt (friend) and Kendra Clark (friend). The best man was Terrell Binkley (friend), and the groomsmen were Joe Brown (brother), Kevin Binkley (friend), Jayson Ramirez (cousin), Jaylinn Glenn (friend), Casy Ruth (friend), Andrew Price (friend) and Kellen Gustafson (friend). The flower girl was Santana Kemple (cousin) and the ring bearer was Korbyn Wright (friend).
A reception was held at the Double Tree Hotel. The newlyweds' honeymoon was a week in Jamaica. They will make their home in Grand Junction, Colo.