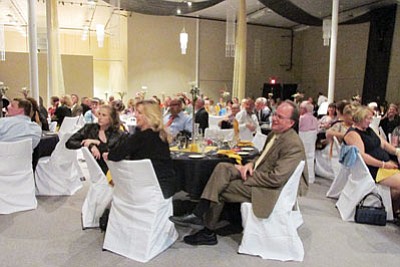 Originally Published: October 28, 2013 6 a.m.
KINGMAN - Despite curtains for bathroom stalls and an unfinished stage and dance floor, the new Beale Celebrations rolled out the red carpet Saturday for about 200 guests for its grand opening dinner celebration.
The ongoing construction didn't faze government officials and business owners who came to get a taste of the new business and its wares. After touring the building, located at 201 N. Fourth St., they sat down for a catered dinner of beef, chicken, rice, salad and vegetables. Dessert was provided by Route 66 Ice Cream and Sweets, Inc., and Route 66 Bakery, two businesses that will open soon in a downtown building.
"I think Beale Celebrations is absolutely fabulous and is long overdue," said Beverly Mracek, owner of Hualapai Home Health Care. "Kingman has needed something like this for years and we're all thrilled that it's here. It provides a gathering place in the city. I think the business will bring life back to the downtown, and other people won't be afraid to invest in it anymore. It's all very exciting."
New owner Werner Fleischmann announced in August that the former city-owned Development Services building would become an event and celebration center. It will provide space, decorations and catered food for meetings, training seminars, weddings, parties and other activities.
Dora Manley, owner of Dora's Beale Street Deli, will offer catering and party planning services as part of the business.
The Fleischmann Arizona Investment Corp. purchased the property from the city of Kingman in April, submitting the lone bid of $350,000 for the 8,741-square-foot structure. It was built in 1941 and was home to a JC Penney outlet. The city purchased the building in 2009 for its appraised value of about $875,000 to house Development Services, but moved out in 2011 after the effects of the housing market crash hit home.
The City Council hoped to lease the building to a private party to recoup its investment, but the Legislature enacted a punitive property lease excise tax on publicly owned buildings leased for retail purposes.
During the four-hour grand opening celebration, Fleischmann spoke about his love for Kingman and how he got started buying property in 1988 when he visited the area. Fleischmann said he learned about Kingman and its economic cycles, which led him to purchase the downtown Hotel Brunswick, 315 E. Andy Devine Ave., and the Old Trails Garage at 311 E. Andy Devine Ave., which will feature the bakery and ice cream shop.
"After buying the JC Penney building, I had to find an idea for its future use," said Fleischmann, a real estate developer who lives in Switzerland. "I always had in mind something that would help the downtown and give it life. You can see that the building is almost finished now. I hope what I've done gives people here encouragement to renovate their buildings. It helps the city and gives it more value. This is your future."
When complete, the building will include high-speed Internet for business seminars, a ceiling-mounted projector and 16-foot wall screen, a 20-foot stage, a dance floor and back room for musicians; bride's room where wedding participants can dress for their event, and a catering area for Manley's team. The main room, which seats about 400, can be divided into smaller areas for multiple meetings.
Steve Wagner of RE/MAX Prestige Properties, said Beale Celebrations will be a boon for the city. Wagner, a member of the organizing committee for the Route 66 International Festival that will take place in Kingman next year, said the facility will get even busier as the annual festival nears. It features a variety of activities and events for a crowd of visitors that could number 10,000 or more.
"I think this business is great," said Wagner. "It's another venue the public can choose for gatherings. It's needed very much and will provide a boost to the downtown. Hopefully, it will help keep the money here that companies spend to have meetings in other cities. I think it's going to be used quite a bit."
Click for home delivery with comics, grocery deals, inserts, TV listings, coupons and more