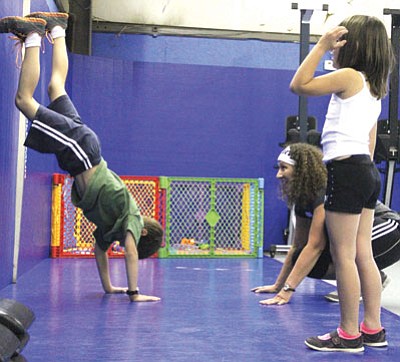 Originally Published: October 28, 2013 6 a.m.
KINGMAN - Kingman's newest fitness club, Kingman CrossFit, is the little gym that could, winning first place in the team competition at Arizona's Sicest of the Southwest competition.
"It was a complete shock,' said Michael Stapleton, a coach and the co-owner of Kingman CrossFit. His wife, Nicole, is the other partner in the business and also coaches at the club, or "box."
Kingman's team beat out nearly 60 other CrossFit teams from around the nation to grab the grand prize of $2,000. Teams had to complete two workouts. The top three teams from each workout then competed against each other in a third workout.
"We couldn't believe it when they came to us and told us that we had won money," Michael said. "There were so many other teams there from bigger gyms."
CrossFit is a high intensity, full body fitness routine that uses a combination of calisthenics, weights and cardio that has gathered a huge crowd of followers worldwide, Nicole said. The workouts vary from day to day to create different stresses on the body.
The idea is to create a level of overall fitness that helps a person do everyday chores, such as lifting, pushing or carrying heavy objects or the ability to hike several miles to the nearest gas station after your car breaks down, Nicole said.
"It's all based around movements you would make in your daily life," she said. "It's always different.
According to CrossFit.com, Greg Glassman, a personal trainer in California, designed the program in 1995. He came up with the idea after he was hired to create a training program for the Santa Cruz Police Department and found that a regular routine of cardio and weight lifting exercises wasn't helping officers jump fences and leap barriers while in the pursuit of suspects. Glassman posted his daily exercise routines on his website and the movement eventually grew into a franchise.
Nicole said she found out about the program from her physical therapist after having knee surgery.
"It's greatly improved my fitness level," she said. "If I had know about this before, I might never have needed knee surgery."
Nicole opened the Kingman club with a partner in 2011 with the idea of helping others achieve their fitness goals and to create a more open and inviting gym environment. A place were people actually help each other out and converse with each other instead of walking in the door, putting their headphones on, doing their required workout and leaving, she said.
CrossFit is not without its critics. The Internet is littered with articles from doctors and personal trainers warning that CrossFit's rapid and repetitive routines increase the risk of injury, especially those new to fitness routines.
All physical activity has some risk of injury and people starting a new exercise routine are more susceptible to it than others, Nicole said. CrossFit requires new members to go through a month long "ramp up" program to learn the correct form for each of the exercises to minimize the risk of injury.
After that first month, each WOD or "workout of the day" is adjusted to meet the fitness level of the client, she said. The most satisfying part of being a CrossFit coach is watching people improve.
It's also about more than just competing, Nicole said.
"We have people here from ages 5 to 60, some of them want to compete and others just want to get better," she said.
Kingman CrossFit is one of the few gyms in the area that offers classes designed for children and teens, as well as adults, Nicole said. Each class focuses on making exercise fun, while at the same time making sure that the kids learn proper form.
For more information, call (928) 753-9500.
Click for home delivery with comics, grocery deals, inserts, TV listings, coupons and more