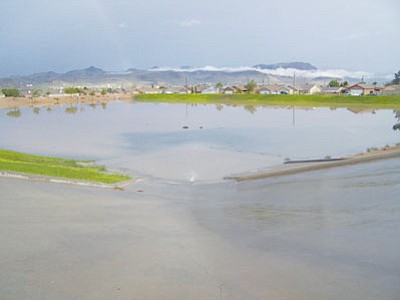 Originally Published: September 4, 2013 6:02 a.m.
GOLDEN VALLEY - Dave Payton wasn't worried when his great-grandchildren's school bus got stuck between two running washes for several hours Friday afternoon.
Payton got a cell phone call after school from his oldest great-granddaughter, Justine Lane, 14, to let him know the bus was sitting on Estrella Road between Abrigo and Diabase roads and wasn't going anywhere until help arrived. Payton's other three great-grandchildren - Serenity, 13; Brandon, 11; and Jessica, 8 - also were passengers on the marooned bus.
"The kids sounded like they were having fun on the bus when my great-granddaughter called me," said Payton. "You know how kids are. They can make anything into something fun. But I felt sorry for the bus driver because he was the one who was worried. It was a scary situation for him, but he handled it well."
A sudden rainstorm pelted Golden Valley on Friday, sending water rushing through both washes surrounding the bus and leaving a two-foot layer of impassable mud and rocks in one of them. A Mohave County Sheriff's Office officer monitored the stranded bus from the edge of one wash, and Mohave County Emergency Services quickly responded to the scene.
Mark Wolski, a Kingman Unified School District bus driver for about eight years, waited with his young charges as a Mohave County Public Works blade truck scraped the debris so Wolski could return the 29 kindergarten through eighth-grade students to Black Mountain School. Wolski is credited by KUSD officials and parents with using caution in what could have been a tragic situation.
Over the past 32 days, Kingman and Golden Valley have received a total of 108 inches of rainfall at its 32 sensor stations monitored by Mohave County Public Works. Totals range from a low of 1.65 inches at Mohave Wash and a high of 4.76 inches at Burn Spring in Kingman to a low of 1.61 inches at Cherum Peak and a high of 7.09 inches at Cave Spring in Golden Valley during that time.
Black Mountain Principal Becky Collins said the children on Wolski's bus came back to the school and waited there until parents could retrieve them. Collins said two more buses were unable to drop off children because of flooding and returned to Black Mountain, leaving almost 50 students there until about 8:30 p.m. Collins said pizza was brought in and students watched movies at the school during that time.
The school's buses only travel paved roads when it rains in Golden Valley, said Collins. She noted Estrella Road is paved, but because of recent downpours, it has buckled. Collins said she has not seen it rain as much or the washes fill like they did Friday, requiring students to return to the school, in her eight years as principal.
"The bus driver did the perfect thing," said Collins. "The two washes were running and he was stuck between them, so he waited until it was safe and returned to the school. Washes are a huge issue in Golden Valley, and none of our buses cross running washes. We pay a lot of attention to the rain here because the safety of our students comes first."
KUSD Superintendent Roger Jacks said that when flash flooding occurs, the situation can change rapidly. On Friday, district officials were watching the weather and decided to keep students from several schools off their buses because of anticipated storm cells. They included Kingman High School, Lee Williams High School, Cerbat Elementary School, Kingman Middle School and White Cliffs Middle School.
Those parents were notified of the situation by the district's call system, which can contact 10,000 parents by telephone in less than 20 minutes. Golden Valley students attending high school in Kingman were bused to Black Mountain Elementary to wait for their parents to pick them up, said Jacks. Three other buses returned to the school after leaving on their assigned routes, he added.
"In the one incident, we were very proud of the driver because he was so safety conscious," said Jacks. "Those washes flooded rapidly and the driver did the right thing by waiting. The district's goal is to keep the students at school in situations like this, but we also train our drivers to be safe if they get out in a bad situation. This driver thought about the children first and didn't cross the washes."