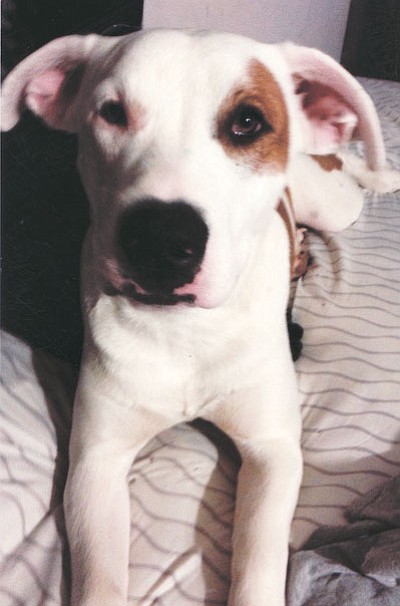 Originally Published: September 5, 2013 6 a.m.
KINGMAN - Natalie Pruitt went into Smith's Food & Drug on Stockton Hill Road at about 5 p.m. on Aug. 27 for an emergency restroom stop. She left her dog, Thor, in her SUV with the motor and air conditioner running.
Little did the Kingman woman realize neither she nor her six children and two grandchildren would ever again see the beloved family pet, an 8-month-old American Bulldog she said she purchased in California last February for $3,000.
Thor was dead within 24 hours, the victim of an unscheduled killing at the Western Arizona Humane Society.
"The puppy was accidentally euthanized," said shelter Chief Executive Officer Victoria Cowper. "From an organizational standpoint, this is the direct opposite of our goal, which is to save lives. We're all very heartbroken around here."
Here's how this sad story unfolded from Pruitt's perspective.
She said somebody stole Thor from her Dodge Durango while she went in to use the restroom.
"I never thought I'd come out and my truck would be there and my dog wouldn't," she said.
Pruitt notified Animal Control of the situation. The next day, she saw a post on craigslist.com that described her dog.
She called the woman who placed the ad, who told her Mohave County Animal Control picked up the animal, that she had male dogs and she was worried about Thor because he had a cut on his face.
Mohave County Sheriff's deputies confirmed the dog was picked up and delivered to the Western Arizona Humane Society, but workers there, said Pruitt, said they had not seen the dog.
Pruitt contacted other shelters in the area. None of them had a record of taking in Thor.
Three times a day for a week Pruitt went to the Western Arizona Humane Society to see if they found the dog.
"The humane society kept telling me to go to the sheriff's office and the sheriff's office told me to talk to the humane society," she said.
On Tuesday, Pruitt went to the shelter and was met by deputies, who searched the records and found the log that pertained to Thor.
The record showed he had been put down on Aug. 28, less than a day after someone took him from Pruitt's SUV.
"Thor was a loving dog," she said. "But he was a dummy. He would willingly go with somebody."
Her grandchildren, she said, are "devastated" by the news. She has a 15-year-old son who has autism and he has been particularly affected.
"Evan bonded with Thor," she said. "He hasn't said a word since we told him Thor wasn't coming home."
While Cowper said the Western Arizona Humane Society deeply regrets what happened, Pruitt is angry.
She said Cowper has been empathetic to the family, but other workers voiced no sympathy whatsoever.
She wants $5,000 to cover the cost of the dog and for "the pain and suffering of eight people."
And she wants somebody to lose his or her job.
Cowper said the shelter would be closed today until noon so an investigation can be conducted and staff can be retrained on the process.
The protocols already in place should have prevented the accidental killing of a dog that was neither aggressive nor sick.
According to Cowper, every dog and cat the facility puts down can only be euthanized when two people sign off.
Shelter computer software assigns random numbers to each animal that comes in, and a minimum three-day waiting period is put in effect. Cowper said every number assigned to a dog is accounted for.
She is scheduled to meet with an attorney to discuss what laws would apply and what the legal precedents are. She hopes to have an answer for Pruitt by Friday in an effort to settle the matter and avoid litigation.
Pruitt wonders how an organization with so many safeguards in place could have made such a terrible mistake.
"This is just so stupid," said Pruitt. "They didn't have to kill him. He was a good, healthy, loving dog."
Cowper agrees, and while she makes no excuses for what happened to Thor, she did say the shelter is under great strain in Kingman, where it took in about 1,450 dogs in fiscal year 2012-2013 ending June 30. Of those, the owners of slightly more than 300 dogs were reunited with their pet.
The percentage of unclaimed dogs is higher in Kingman than in other communities in which the humane society operates, a fact Cowper said is due to too many dogs going without a collar or microchip, and dog owners who won't bother looking for missing animals. She also said there is an abnormally high number of vicious dogs in the Kingman area.
Pruitt, she said, did everything the owner of a missing dog is supposed to do, except for putting an identifying tag on Thor's collar.
"He wouldn't wear a collar," said Pruitt. "He just refused, but he was inside all the time. He wouldn't go outside for long. He thought he was a member of the family, and he was."
Click for home delivery with comics, grocery deals, inserts, TV listings, coupons and more