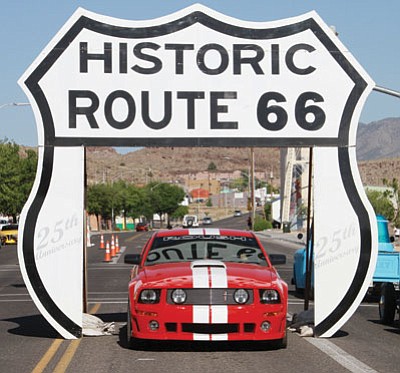 Originally Published: September 8, 2013 6 a.m.
KINGMAN - The schedule is already firming up quite nicely for the upcoming Route 66 International Festival in Kingman and its organizers are getting ready to sound the call for volunteers.
Scheduled for Aug. 13-17 next year, the Route 66 Alliance's annual festival will feature a variety of activities and events for a crowd of visitors that could number 10,000 or more. Kingman was chosen Aug. 3 as the 2014 site for the festival during this year's event in Joplin, Mo. The theme for next year is "Kingman - Crossroads of the Past & Future."
"I think the upcoming festival will give Kingman an incredible opportunity to share in the benefit of everything it has to offer," said Mike Wagner, a member of the organizing committee. "This is going to be a big event and I'm very excited about it. I get an adrenaline jolt just from looking at the preliminary guide we've put together for the festival. The whole thing is almost overwhelming."
Wagner, who worked in marketing for Disneyland Paris for 16 years before moving to Kingman, said nine countries and 25 states were represented at Joplin's festival. Wagner said the committee will be presenting its plans and needs during a public meeting in the next few months so the community can begin preparing for the influx of Route 66 fans. No date has been set for the meeting yet, said Wagner.
The preliminary guide for the festival is broken into five categories - Spiels, Wheels, Meals, Deals and Surreal. The Spiels, or speeches and meetings, include the festival's opening and closing ceremonies and parade, presentation and roundtable about Route 66 vying to become the nation's first electric highway, the unveiling of the Route 66 "Walk of Fame" in Kingman and walking tours in the historic district with historian and author Jim Hinckley.
The Wheels, or fun with cars and bikes, features "Chillin' on Beale Street" with a classic car show that includes vintage, antique, alternative energy, micro and military vehicles, as well as vintage travel trailers, classic tractors and motorcycles. Also, visitors will be able to cruise Route 66, participate in mountain bike rides and tour area ghost towns.
A variety of eats are planned for Meals, the food and drink portion of the guide. They include a pancake breakfast, barbecue and concert at Hualapai Mountain Park, classic and modern food trucks, wine-tasting at two locations and happy hours at several events. The Deals, the sales emphasis of the guide, features Main Street Marketplace show and sell, Route 66 exhibition for artists and authors, a Western and Native American arts exhibit and the 10th Annual Arts & Crafts Fair at Hualapai Mountain Lodge.
The Surreal section of the guide focuses on concerts, a Route 66 Virtual City of classic billboards, a Santa Fe Railroad and model railroad exhibit and a film festival highlighting Andy Devine and movies filmed in Kingman or on Route 66. Also, it includes tours of the Kingman Army Air Field Museum, Route 66 Museum and Mohave Museum of History & Arts, as well as an amateur photo contest and bowling and golf tournaments.
The event also includes geocaching, a treasure-hunting game for adults using a Global Positioning System to locate hidden containers, and letterboxing, another type of treasure-hunting game for children using rubber stamps and clues from a website. The festival will culminate with a Route 66 adventure prize drawing.
"This festival could be a real shot in the arm for next year and forever," said Steve Wagner, another member of the organizing committee. "It's definitely a stepping stone. When people travel Route 66, they stop in Seligman and then in Needles, Calif.
"Why not here in Kingman? We have so much to offer. The point of the festival is to make people aware of Kingman and want to come here to stay. It's a boon that we were able to get the festival and now we need to get the community here involved in it."
Joshua Noble, director of tourism for the Kingman Visitor Center and another organizing committee member, said community involvement is crucial to the festival's success. Already, the Tourism Development Commission has authorized up to $5,000 in funding to help promote the festival, he added.
"This is a big event that will bring people and traffic in and it's going to take a lot of planning and volunteers," said Noble. "We're looking to the community for help. We don't think putting the festival together is beyond Kingman's capability. It can happen but it needs huge community support."
Hinckley, also a member of the organizing committee, said he has been working hard to promote Kingman's festival since he heard the city had landed it. A new website, www.kingman66fest.com, has been set up to provide information about the festival and people to contact for volunteer opportunities. For more information or to volunteer, call (928) 753-6106.
Interest in Route 66 is "off the charts" these days, said Hinckley, who has written several books about its history. Hinckley said Route 66 is a living, breathing time capsule that draws people from around the world who are fascinated with the romanticism of America and the West. Hinckley said he has spoken about the Mother Road to 16 international groups of tourists since May but had to turn down another 70 groups because of limited time.
"This is an incredible opportunity to transform Kingman into a destination, not only for tourists but for people looking to relocate and open businesses or raise families," said Hinckley. "This event is only limited by our imaginations and how much people want to get involved. The seeds have been sown and the city is ripe for this festival. It's coming together and is going to be the start of a new chapter for Kingman."
Click for home delivery with comics, grocery deals, inserts, TV listings, coupons and more