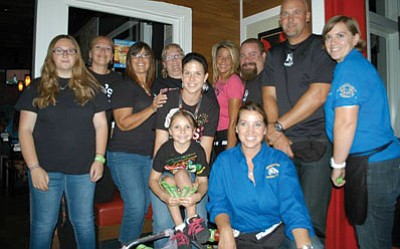 Originally Published: September 10, 2013 6 a.m.
KINGMAN - With two weeks left in its annual month-long fundraiser for St. Jude Children's Research Hospital in Memphis, Chili's already has raised almost half of its $10,000 goal so far.
But the restaurant isn't gathering the money alone. Last week, a group of principals, teachers and a student from the city's three high schools - Lee Williams High School, Kingman High School and Kingman Academy of Learning High School - shadowed Chili's waitstaff as they served tables and booths. The volunteers talked to customers about St. Jude and Chili's fundraising efforts, then asked for donations. When the evening was done, the group had collected $1,500. It was the first time educators had participated in the annual event.
"It was a blast and we had a great time," said Janelle Victory, vice principal at Kingman High School. "It was very competitive, especially since the principals at the other two schools are my good friends. It was a busy night and it was great to talk to people about a worthy cause. And there's nothing better than getting our name out. We're a school and as such, we must become a cornerstone in the community."
Kingman High School volunteers were Victory and teachers Jenny Johnston and Clare Schroeder, Volunteers from Lee Williams High School were principal Gretchen Dorner, teacher Brittany Noble and student Kaitlin Ferro.
Black Mountain School teacher Joel Gould also represented Lee Williams.
"It was a lot of fun," said Dorner. "It was a great opportunity to meet the public and support St. Jude.
"I believe it takes a whole village to raise a child and we all need to pitch in together to do that successfully."
Kingman Academy of Learning High School sent principal Jeff Martin and teachers Jull Proudfoot, Kip Crowl and Claudia Finkbeiner.
Finkbeiner raised $245 during the teacher competition to earn bragging rights for the most money collected by an individual that night.
The goal for this year's overall fundraiser is $10,000, or double last year's goal of $5,000, said Frankie Wymbs, a bartender at Chili's who helped coordinate the event.
The restaurant beat its goal last year, collecting $7,000 for St. Jude.
Wymbs' niece, 8-year-old Alyssa Tudor of Laughlin, is serving as hostess during this year's fundraiser. Tudor has neuroblastoma, a form of cancer that attacked her spine.
The month-long event, which started Aug. 23 with a kick-off party that featured the educators, ends Sept. 25.
During that time, said Wymbs, employees dress up on Fridays in various themes - cowboys, superheroes, 1980s - to draw attention to the fundraiser.
Also, local businesses can donate money and receive a banner with their name that is hung on in the restaurant. So far, 10 banners line the walls.
And a group of Kingman police and firefighters will compete for the second year from 4-8 p.m. Sept. 23 to raise money for St. Jude. Last year, the group collected $3,000 during the one-night competition. Also on that day, all profit from food and beverages will be earmarked for St. Jude, and employees donate all their tips that night to the cause.
Since 2002, Chili's has donated more than $46 million to St. Jude, with a 10-year commitment to raise $50 million. St. Jude was founded by actor Danny Thomas in 1962 to ensure no child is denied treatment because of a family's inability to pay.
About 5,700 active patients annually visit the hospital, which has 2.5 million square feet of research, clinical and administrative space dedicated to finding cures and saving children. Daily operating costs are $1.7 million.
"I was very impressed with the teachers' cooperation and willingness to help," said Wymbs. "They were so energetic and Kingman Academy of Learning even showed up 30 minutes early just to study the information about St. Jude so they could tell customers about the hospital. The night was emotional, high-spirited and fun. Now I can't wait to see what the firefighters and police do when it's their turn."