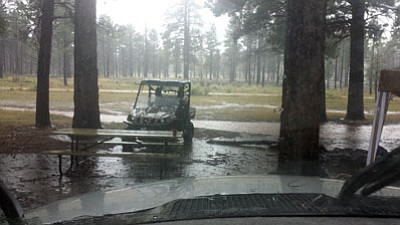 Originally Published: September 11, 2013 6 a.m.
An Arizona Strip archery deer tag is one of the most coveted big game tags sought by die-hard archers every year.
With an average 6 percent draw success, odds aren't good, and many archers will wait more than 10 years before they receive one of these tags.
But sometimes Lady Luck smiles (even though a sportsman doesn't have a fist full of bonus points) and he or she will draw a tag. That is truly the beauty of the Arizona Bonus Point system.
One of the little-known facts about that archery hunt is while archers are hunting in arguably the best place in Arizona for huge mule deer, the number of bucks taken isn't always that great.
There have been 25 tags issued for this hunt for a long time.
In 2010, the 25 hunters enjoyed a 50 percent hunt success. That means only about 13 deer were taken. In 2011, the hunt success dropped to 26 percent, which resulted in about five bucks being taken.
Last year, the 25 hunters had a 40 percent success, meaning that about 12 bucks were taken. This year I've heard the hunt success may be once again in the mid-20s range.
There are a lot of reasons why the hunt success there varies from 25 percent to 50 percent.
A lot depends on who draws the tags each year.
Many of those archers who wait for years for a tag aren't going to take a buck unless it is approaching giant buck status - over 200 inches.
Then again, some of the archers are content to take a respectable 24-inch, 150 class buck and call it good.
Another reason for the variability is the weather and, specifically, the summer monsoon rains.
Many successful archers will sit for hours and even days on an isolated water and wait patiently until the buck of their dreams shows up.
Take local sportsman Mike Hendrix, for example. A few years ago, Mike waited through sweltering heat and monsoon rains for 20 days before he released the string that resulted in him tagging a giant, plus 210-inch buck!
But if you have to spot and stalk an old wise mule deer buck that has survived six or more archery and/or general rifle seasons on the Strip, the odds are heavily in the favor of the deer.
This year saw a late monsoon storm pattern on the Strip. The summer started off dry and it wasn't until right before the archery season opened that the monsoon rains arrived, and in force.
While the Strip now looks in many areas like Cerbat Cliffs Golf Course, the rain made sitting waters an almost impossible proposition.
I heard of just four bucks being taken on this year's hunt, which ends tomorrow.
But the bucks that were taken were truly worthy of being called Strip bucks!
The best one was taken by a hunter of outfitter Matt Shimberg. The buck sported a 34½-inch set of velvet-covered antlers that reportedly scored 229 inches! This is a monster mule deer.
Strip guide Larry Bundy's hunter took a beautiful 7 X 6 velvet-covered buck that will score at the magical 200-inch mark.
Brec Bundy, another successful Strip guide, had an elderly hunter (I heard he was 79 years old) and they set on a stock tank in a blind. That hunter is reported to have taken a decent buck.
The other buck I heard about was taken by local archer Blake Chapman. Though I haven't personally seen the buck, I was told that he got a 32-inch wide 3 X 3.
Blake is one of those guys who consistently beats the odds of drawing both archery and rifle Strip tags, and at last count I think this year's tag was No. 5 for him!
And he has taken some great bucks too. I remember him taking another super-wide 3 X 3 a few years ago.
I heard that local archer Richard Martin brought his tag home after suffering through the almost constant deluges that archery hunters dealt with this year.
And Mike Cobb, who drew the last tag offered this year, tag number 25, brought his tag home too.
I got to hunt with him for three weekends and I can tell you this guy hunted as hard as any archery hunter I've been with.
You would not believe how many miles he walked as he stalked bucks that we had named. Bucks like Freak Nasty, The Club, The Split 5, The 30" 4, The Big 4, The 6X5 tripod and The Giant 5 X 5 will always be remembered.
And Mike will tell you that he had his chances - two of them, in fact. But the 29-inch wide 4 X 4 that Mike had at 23 yards last Friday morning will haunt him for months.
But for a small limb that the arrow struck on its short flight toward the big buck, you would be seeing a smiling Mike Cobb with that once-in-a-lifetime Strip buck.
But I'm sure that Cobb had a great hunt. After all, he saw lot of mature bucks every day that anywhere else in Arizona an archer would gladly pursue. Cobb saw well over a hundred bucks on his hunt, along with turkeys and even a flock of chukars.
Hunting isn't about the kill. It's about the experience. And we all had a heck of an experience.
I can't wait 'til later this year when I can go back to my favorite mule deer area and look for a big buck for one of the 70 hunters who have general tags this year.