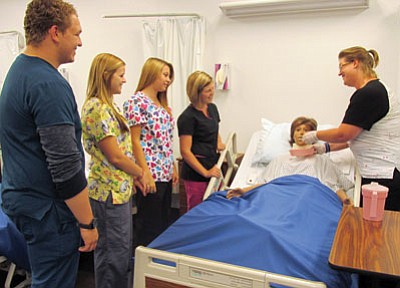 Originally Published: September 16, 2013 6 a.m.
KINGMAN - The new state-certified nursing laboratory at Lee Williams High School couldn't have opened at a better time for Andrew Arnold.
Arnold, 17, a senior at Kingman High School, was part of the first Certified Nursing Assistant class to use the lab when school began this fall. Arnold has known he wanted to be a radiologist since he was in seventh grade and plans to work as a CNA after graduation while he earns a degree in his chosen field.
"It's nice to have a workspace that we can call our own and enough equipment on hand to get the feel of being a CNA before we do clinicals this winter," said Arnold. "I'm kind of nervous that I'll mess up with the patients, so being in the lab first is good. It's going to help me to know how to stay relaxed and reassure my patients while I make them comfortable."
The Arizona State Board of Nursing recently certified the laboratory, which includes three hospital beds, two lifelike mannequins, bedside tables, curtain dividers, lifts, walkers, hand-washing sinks and a closet stocked with linens. The nursing lab is the result of a partnership between the Kingman Unified School District, Western Arizona Vocational Education District (WAVE) and Mohave Community College.
KUSD's voter-approved bond funds were used for renovations to the second-floor classroom at Lee Williams over the summer, and the WAVE District purchased the equipment. Voters created WAVE in 2009 to provide additional funding and support to the Career and Technical Education programs in Mohave and La Paz counties. The college provides the coursework, faculty and direction on lab equipment.
Amy West, Career and Technical Education coordinator for KUSD, said students begin the CNA program, which started in 2011, by taking a year of medical terminology and then applying for the program, which is completed during their junior or senior year. They earn six college credits and can take the state test that qualifies them to become Certified Nursing Assistants - all before they graduate.
"I'm very passionate about this program," said West. "It gives our high school students an opportunity to get an industry-recognized certificate that makes them employable right away. And what they'll learn in our new nursing lab are the things they need to know in the real world. There are job opportunities out there and we're trying to help the kids connect with them."
Brooke Huffer, 17, a KHS senior, said she chose the CNA program to get a jump-start on her nursing career. So far, she has learned proper hand-washing techniques in the lab and how to wear scrubs for the course, which has met two nights a week since August. Huffer said she is looking forward to working on the mannequins, from bathing and moving them to brushing their teeth and taking vital signs.
"This is the closest thing to actually working on live patients," said Huffer. "I'm pretty excited about getting hands-on experience. It's really convenient that we'll be able to do that through our high school."
Click for home delivery with comics, grocery deals, inserts, TV listings, coupons and more