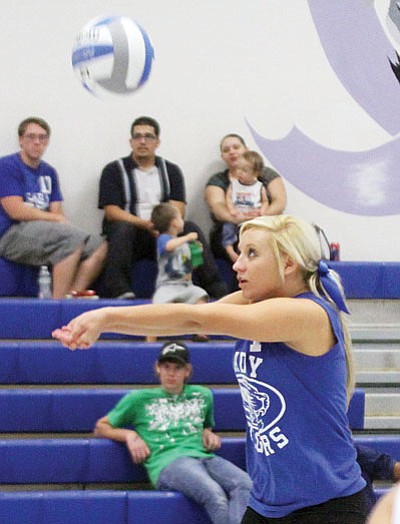 Originally Published: September 19, 2013 6 a.m.
KINGMAN - Bryant Morrison preaches fundamentals, footwork and all.
Yet, he wasn't particularly vocal about it from the Kingman Academy volleyball team's bench on Tuesday night. He didn't have to be because his players eventually got the memo. They got everything in order, beating Seligman High School in four sets (22-25, 25-21, 25-16, 26-24).
"We just need to make sure that we're communicating out there," said Morrison, now 2-0 in his first season as the Tigers' head coach. "We're doing well on 'pass-set-hit,' which is a good sign of volleyball where a lot of the teams are just bumping it over. We're just trying to play three hits every time, every possession. We're getting better as we go."
Defensively, KAHS allowed too much open floor space. Seligman found ways to tally points in moments where the Tigers could have prevented them.
Whether it was due to a light tap over the net or sending the ball flying toward the back end, Kingman Academy either tried to deflect the ball in mid-air or they didn't reach the ball's landing spot in time.
That's one major area they're still working on.
"We just need to work on moving our feet a lot," said senior libero Shealyn Neshem, who led the Tigers with three digs. "We go into slumps. We'll build an eight-point lead and just throw it away."
Kingman Academy garnered better control of their fundamental play in the second and third sets. They found more suitable spots to deliver a quick strike. They also took advantage of when the Antelopes started playing sloppy.
SHS couldn't finish their passing and hits, and they were constantly late getting to the ball when attempting to hinder KAHS' efforts. The Tigers scored easy points because of that, winning the second and third sets.
Up 24-20 in the fourth set, the Tigers had trouble closing. They couldn't get the ball within their target zone. Seligman tied the set at 24.
"That's what the girls do is they kind of lose focus," Morrison said.
Kingman Academy got back on track to take the next two points and win the match.
Sophomore outside hitter Alexis McDade had a team-high eight kills. Sophomore setter Kiersten Kinsey had 20 assists.
On the other hand, the Tigers had 40 team errors on the night. That goes back to the drawing board. It's something Kingman Academy will really start mending when they'll travel to River Valley High School in Mohave Valley starting at 6 p.m. Thursday.
"We have the potential. We just need to make sure we put it to good use," Neshem said.