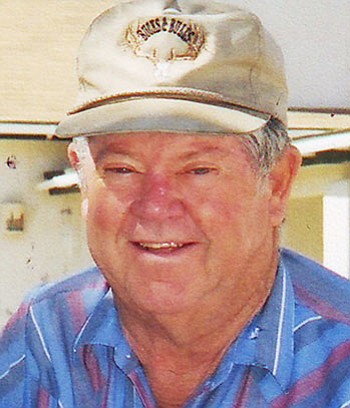 Originally Published: September 19, 2013 6 a.m.
Richard James Brown, our beloved husband, father, grandfather, great-grandfather, brother, uncle, and friend, went to be with the Lord on Tuesday, Sept. 17, 2013. Richard was a member of the Jesus Christ of Latter-day Saints. He was born to Frank and Nina Brown on Feb. 20, 1930, in Douglas, Ariz. Richard lived his adolescent years in Bowie, Ariz. As a teenager, he moved to the Kingman area and helped build the Davis Dam. He then enlisted in the Army and was sent to fight in the Korean War. After the military he began a long career in road construction, which took him all over the state of Arizona.
In 1956, Richard came back to the Kingman area, where he met the love of his life, Dorothy Hodges. They married Sept. 15, 1956. They continued to follow road construction jobs with their young growing family. In 1971, Richard and Dorothy open a fast food restaurant called El Taco (later named Senor Taco) and years later bought a Dairy Queen franchise. In 1987 their only daughter, Lori Barkhurst and family became partners in the business. In 1993, Richard retired from the Operating Engineers Union 428. The family-owned business was sold in 2006.
Richard was preceded in death by his parents, Frank and Nina; his oldest son, John Brown; his two brothers, Bill and Jack Brown; and his beloved in-laws, Amos and Arlene Hodges. He leaves behind his wife of 57 years, Dorothy Brown; his children, Frank (Nora) Brown, Clay (Michelle) Brown, and Lori Barkhurst; his grandchildren, John (Lisa) Brown, Mike (Ryan) Brown, Arlene (Tom) Butler, Chance (Tawna) Brown, Summer (John) Boring, Destiny (Nick) Bolinter, Travis (Jessica) Brown, Rachael Brown, Justin Brown, Brandon (Holli) Barkhurst, Steven (Patience) Barkhurst, Nikki Barkhurst, Trenton Barkhurst; 24 great-grandchildren; his sister, Dorothy Tanner; and many nieces nephews and cousins.
Family was always the most important part of his life. Richard will always be remembered for being an amazing husband, father, grandfather and great-grandfather. His smile and personality would light up any room and he will be dearly missed by all who had the pleasure of knowing him.
Services for Richard will be held at 10 a.m., Saturday, Sept. 21, at the Church of Jesus Christ of Latter-day Saints chapel, 3180 Rutherford St. Graveside services will immediately follow at Mountain View Cemetery, 1301 Stockton Hill Road.